Last month, the Chinese smartphone manufacturer Huawei announced the sale of its off-shoot Honor to Zhixin New Information Technology Co. Ltd. Since its acquisition, the company went through some structural changes and now, reportedly, is ready to launch its first product outside Huawei's umbrella.
Zhao Ming, Honor's new CEO, recently shared a letter on the Chinese microblogging site Weibo. The letter, duly signed by the Honor management, details that the company will soon launch its first product after becoming independent.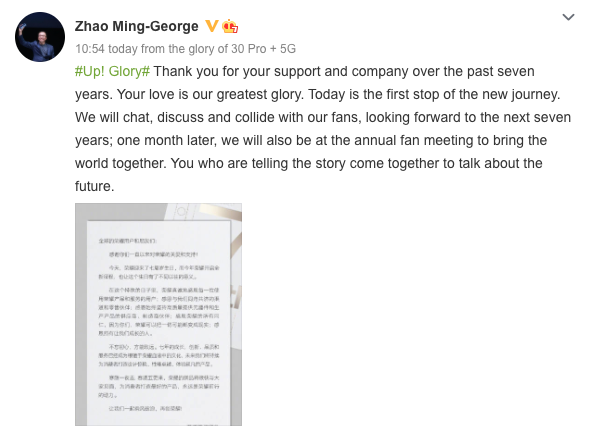 Although the documentation does not provide any details regarding the upcoming product, it does mention that the company will celebrate Honor's seventh anniversary by hosting an annual fan meet next month where the future of the brand will be discussed. The company's management might make important announcements regarding the product at the event.
Moreover, the letter thanks the company's users, distributors, retail partners, suppliers, and manufacturers for bringing it to this level. It also revealed that Honor plans to become the leading smartphone brand in China, surpassing its former parent company and the current market leader, Huawei. Honor's management has set an ambitious target of selling 100 million smartphones in the upcoming year.
Allegedly, the company has already started working towards that goal. It is currently in the process of getting its supply chain in order and is also working on expanding Honor's presence in the offline space.