The Pakistani rupee depreciated by 53 paisas against the US dollar on Monday to close at 168.72.
It lost just one paisa against the US dollar (USD) and closed at 168.19 last Friday after it recovered from a record low on September 15 and gained 94 paisas in the inter-bank market on Thursday.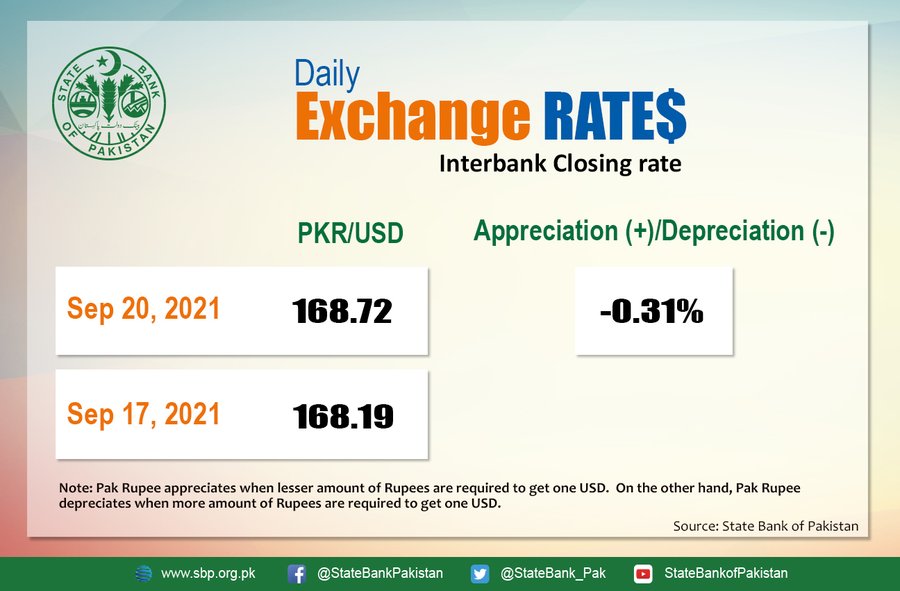 The local currency's recovery followed the comments of the Deputy Governor of the State Bank of Pakistan on the bank's willingness to prevent volatility in the currency market and on taking action against speculators.
However, the first day of the new week showcases a return to the Pakistani rupee's (PKR) prior depreciation trend.
The SBP raised its policy rate by 25 basis points to 7.25 percent today.
"The MPC noted that over the last few months the burden of adjusting to the rising current account deficit had fallen primarily on the exchange rate and it was appropriate for other adjustment tools, including interest rates, to also play their due role," the bank said in its statement.
A.A.H Soomro, managing director at Khadim Ali Shah Bukhari Securities, said that the rate hike would help address rupee depreciation.
Excellent News: SBP increases DR by 25 bps.

Pro-active action from Reza Baqir & Team. Current Account slippages & commodity inflation were higher than anticipated. Coupled with PkR decline. Dr has given first line of antibiotics & tackling the disease heads on.

— A A H Soomro (@AAHSoomro) September 20, 2021
However, Former Treasury Head-Chase Manhattan Bank, Asad Rizvi, tweeted that there was no need to raise the policy rate, and that this could place additional pressure on the rupee.
In a surprise move, SBP decided to raise the policy rate by 25bps to 7.25%. It's in negation of Forward Guidance & inflation target. There was no urgency of rate hike, this act could be hint of more bad economic news in pipeline. Rupee & Stock Market too could come under pressure

— Asad Rizvi 🇵🇰 (@asadcmka) September 20, 2021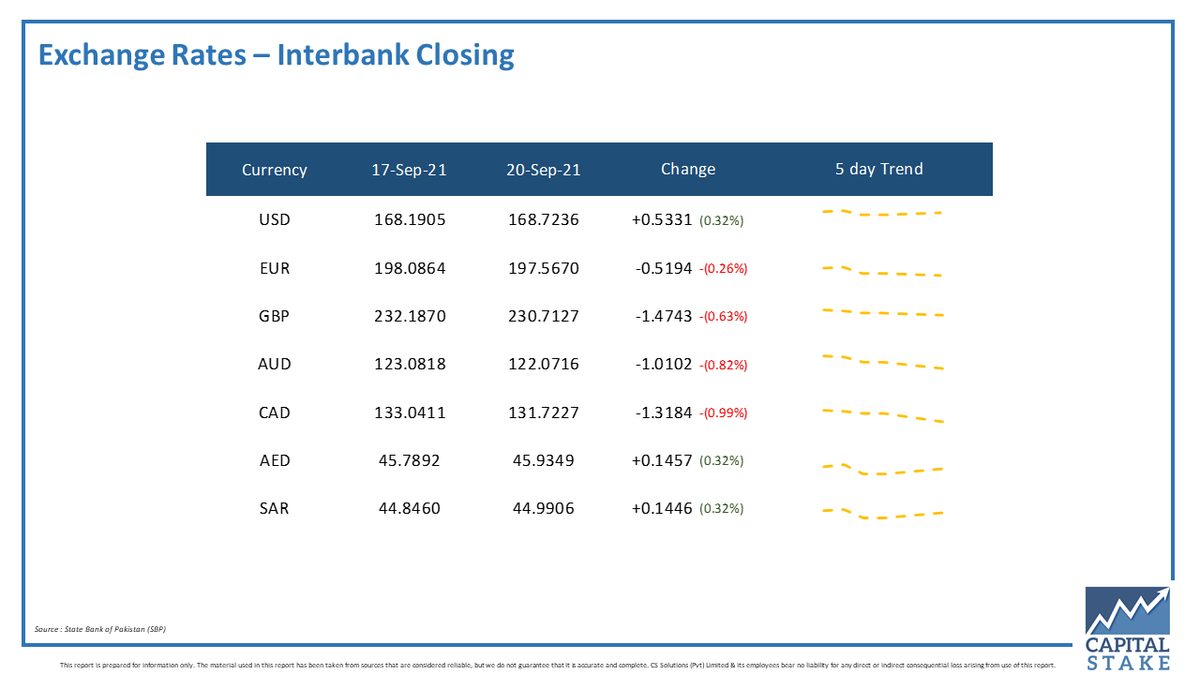 Meanwhile, the PKR gained 52 paisas against the Euro, Rs. 1.47  paisas against the Pound Sterling (GBP), Rs. 1.32 against the Canadian Dollar (CAD), and Rs.1.01 against the Australian Dollar (AUD).
It also depreciated by 15 paisas each against the Saudi Riyal (SAR) and the United Arab Emirates Dirham (AED).