Leave it to Qualcomm to make its naming scheme more confusing each time. The Snapdragon 782G (SM7325-AF) is Qualcomm's latest SoC, and it's an iterative upgrade to the Snapdragon 778G+. It is not to be confused with the Snapdragon 7 Gen 1, which is the true successor to SD778/SD778G+.
Since it is only an iterative upgrade, it is essentially the same chipset as before, but with minor performance updates across the board. Snapdragon 782G is a 6nm chipset with an 8-core Kryo 670 processor and an Adreno 642L GPU, just like the SD778G+.
The CPU has the same core configuration as the 778G+ but it's slightly overclocked. There is a Kryo 670 Prime core (Cortex-A78) that runs up to 200MHz quicker at 2.7GHz, 3 Kryo 670 Gold cores (also Cortex-A78) at up to 2.2GHz, and 4 Kryo 670 Silver (Cortex-A55) at up to 1.9GHz.
The CPU is 5% faster thanks to the slight bump in clock speed, while the GPU is said to be 10% faster than the Snapdragon 778G+. The image below shows a complete list of more detailed specifications for the chipset.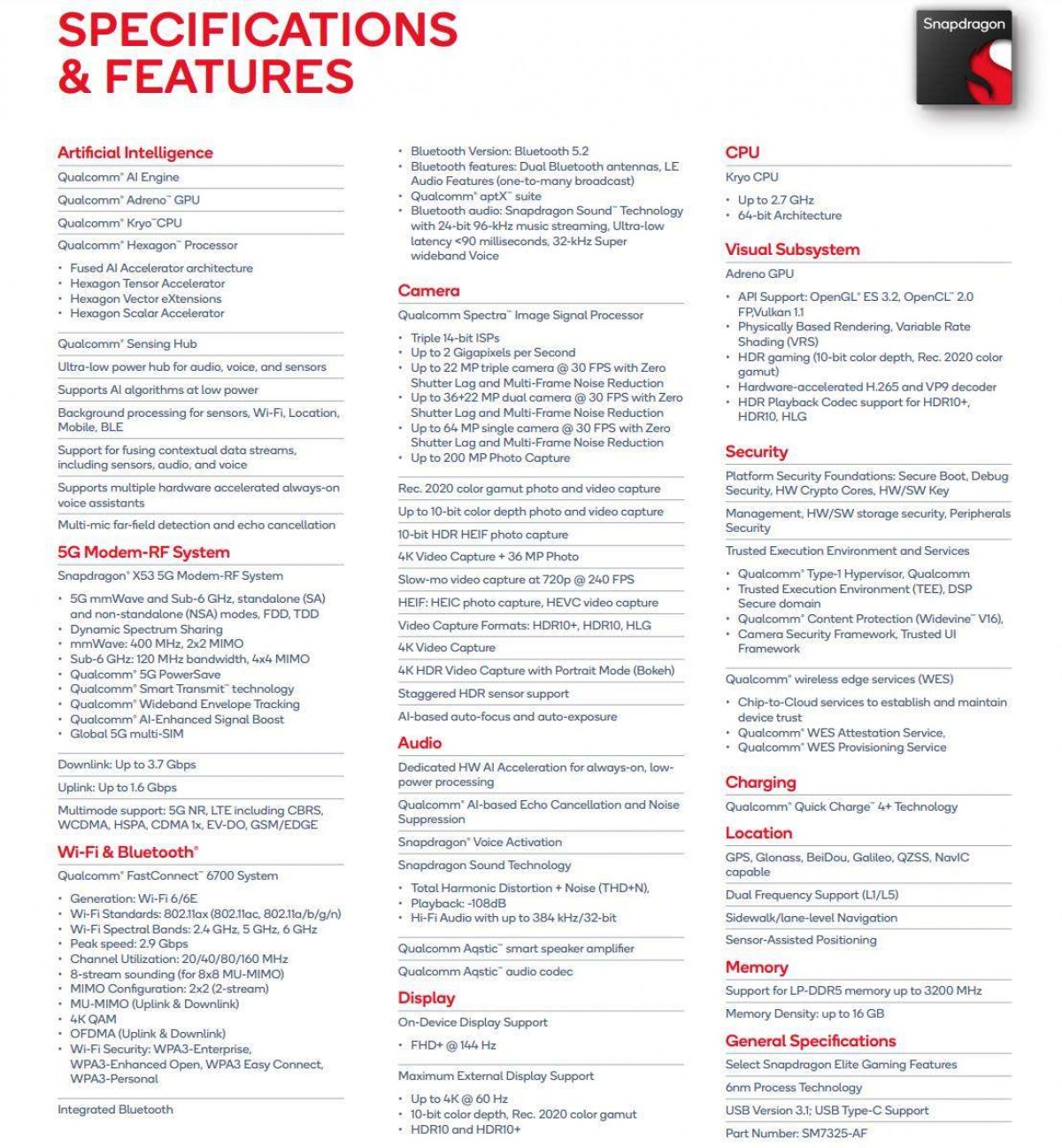 The 782G supports Quick Charge 4+ (up to 50% in 15 minutes) the same Fused AI Accelerator architecture, the same Qualcomm Spectra ISP with triple 14-bit ISPs, and up to 2 gigapixels per second processing and up to 200MP resolution support.
The same Snapdragon X53 modem with Sub-6 GHz and mmWave support provides Wi-Fi 6 up to 2.9 Gbps, with ample capacity over the 6 GHz spectrum plus integrated Bluetooth® 5.2.
Qualcomm has not made any announcements about upcoming phones, but the Honor 80 will likely be the first phone to feature Qualcomm's Snapdragon 782G processor. It will also grace next-generation upper mid-range phones from Xiaomi, Samsung, and other brands. We expect to see it on successors to the Galaxy A53 and other A series phones.