The smartphone industry saw major flagships enter the market between 2017 and 2018 – most manufacturers, including Xiaomi and Samsung, have already launched their flagships for this year and HTC is among the few companies which have not yet done so.
The upcoming HTC flagship is expected to be named HTC U12+ and will be revealed in the next few months. The company might not make a "base" U12, instead, it will go straight to the larger U12+, however, it might launch other variants in the future like it did in U11's case.
HTC really needs to bring something new to the table if it expects to outshine its rivals in the smartphone race and to bring a true successor to the excellent U11+.
Rumors suggest four cameras, waterproof exterior, Snapdragon 845, and no notch. Read on to find out what the more.
Design – Notch or No Notch?
If the rumors are true, we can rest assured that HTC U12+ will not have a display notch and will feature HTC's own unique design. This time, the company will go for a boxy phablet-like design with minimal bezels and a tall display.
Just like U11+, the design will be fairly simplistic – the outer build might be metal but to make the U12+ look premium and include wireless charging, it will have a glass finish instead.
According to rumors, HTC U12+ is coming with Qi wireless charging so a glass back is highly probable. Metal back phones do not support wireless charging.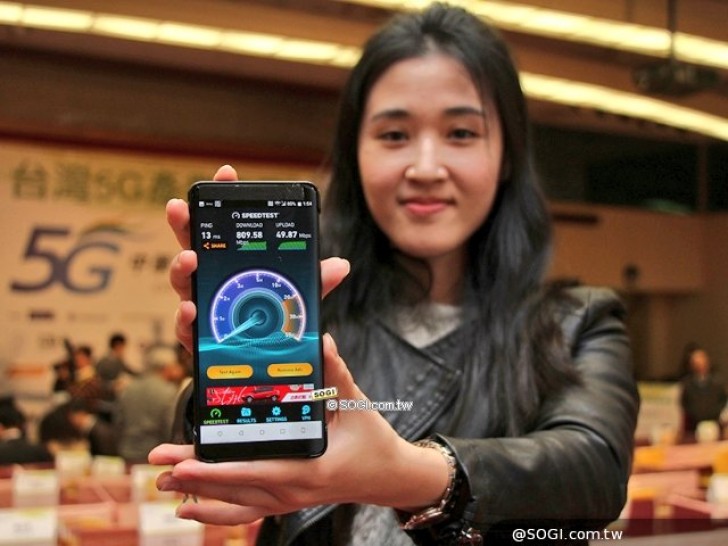 Moreover, Yahoo! Taiwan leaked case renders for the U12+ which reveal four cameras – two rear and two front – and a circular rear fingerprint sensor.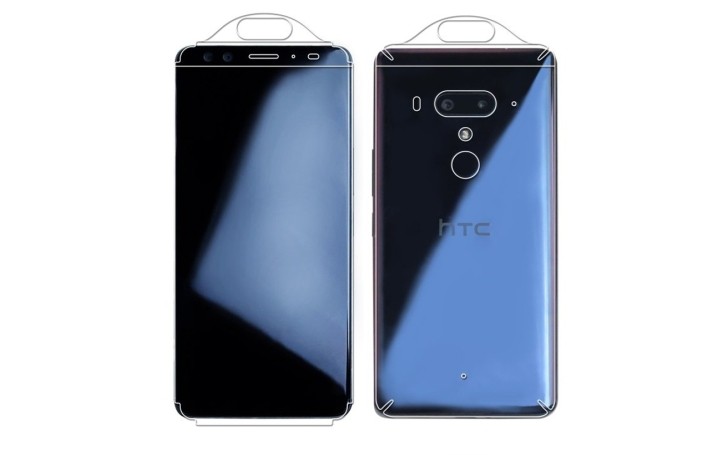 LTE+ (5G) Compatibility
The upcoming flagship also surfaced at a Taiwanese 5G promotional campaign. The event was showing off how fast 5G can go on an HTC U12+ so its safe to say that it will be 5G ready and will support LTE+. Here's a video of the event:
Judging from the high download speeds, it will surely come with Qualcomm's X20 LTE modem which runs comes with the Snapdragon 845.
Leaked Specifications
So far, HTC U12+ is expected to have a 5.5-inch QHD+ (2960 x 1440 pixels) display with an 18.5:9 aspect ratio. A spec sheet leaked in China revealed this and contains details of most of the hardware. Some of the specifications are obvious, such as a Snapdragon 845 chipset, 8 GB RAM (a 6 GB option might become available later), and dual cameras.
---
ALSO READ
All You Need to Know About Xiaomi's Mi 7 [Rumors]
---
Dual Cameras Galore
What's surprising is the front dual-cam set up consisting of two 8 MP sensors, which also has optical image stabilization (OIS). OIS removes motion blur and allows you to record smooth videos – this feature also helps low-light photography by allowing the camera to stay still.
This is a good indication that U12+ will be among the first smartphones to come equipped with a high-quality front-facing camcorder and due to OIS, might also allow 60 fps video recording.
Interestingly, there's just a single 12 MP rear camera in the spec sheet, as opposed to dual cameras in the leaks. The leaks suggest a 12+16 MP set up with PDAF and OIS.
Here's the spec card,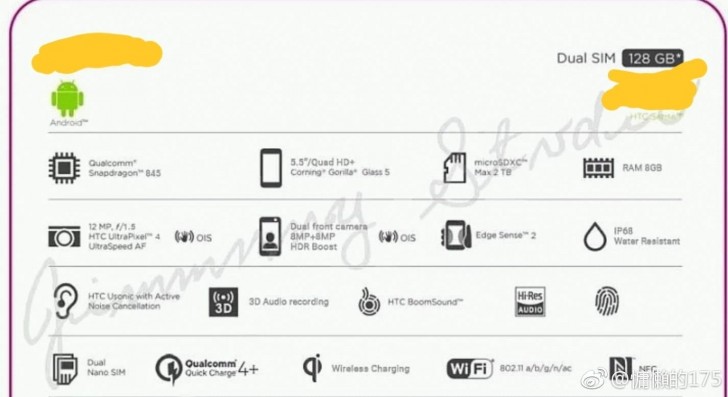 Other Features
Moreover, Qualcomm Quick Charge 4+ is only present in a few devices for now and U12+ will be one of the first smartphones to support it. IP68 certified water resistance is also present which means that it will be able to withstand dust, dirt, sand, and up to 1.5 m submersion in water for 30 minutes.
Edge Sense has been upgraded as well, with Edge Sense 2. It allows you to control your device by squeezing its edges, a certain command or action can be mapped to it. HTC Usonic is a sound technology which changes sound settings based on user preference.
Price and Launch Date
There's no official confirmation on price or launch date, however, it should launch either at the end of April or in May. HTC U12+ is supposed to be a premium flagship – it will definitely come at a premium price so expect it to cost more than $700 (or $800 going by HTC U11+).