India has often provided us with a number of laughing incidents but this one probably tops all of them. An Indian politician promised voters to bring Indian skipper, Virat Kohli, to an election rally but brought a duplicate instead.
Vitthal Ganpat Ghavate, who is contesting for a post in Shirur, made the promise to his followers but failed to come through and this news spread across the border due to Kohli's immense popularity.
There is no doubt that Indian candidates make outlandish promises and claims but this incident takes the cake.
Following the announcement of Kohli's arrival, the word spread like wildfire and billboards and banners were put up at several places.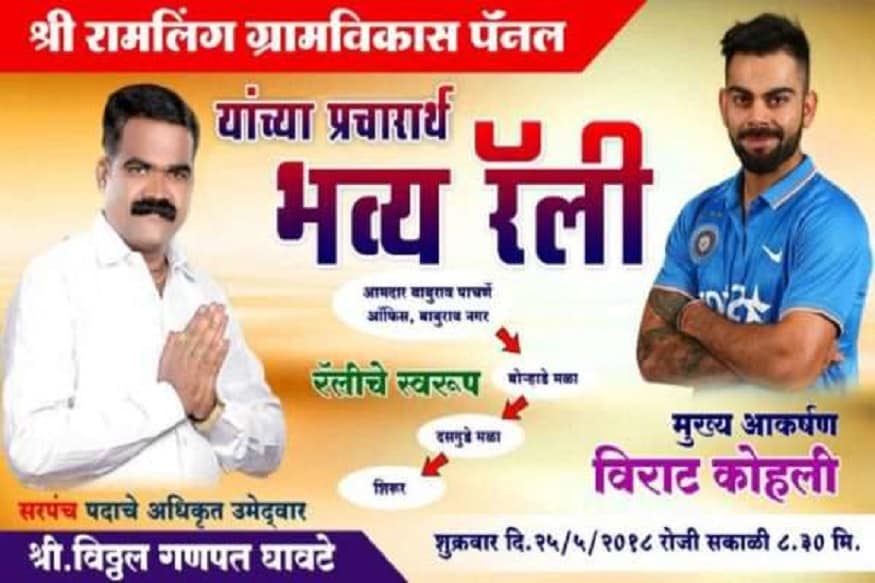 However, when the day finally arrived, the voters were left bemused as Ghavate had arranged a look-a-like of Kohli and not the actual cricketer himself.
---
ALSO READ
Member of Indian 2011 Cricket World Cup Winning Team Linked With Match-Fixing
---
The irony of the situation is that a huge number of voters were actually fooled by this stunt and did not even notice a difference. However, a person on Twitter posted this incident and it became viral.
So this actually happened. They put up an election rally ad saying Virat Kohli is going to campaign for us and they actually fooled public by bringing a lookalike of Virat Kohli 😂😂😂😂😂 pic.twitter.com/Xl9GvAVi2W

— Alexis Rooney (@TheChaoticNinja) May 25, 2018
The real Virat Kohli, on the other hand, claimed that he had no idea that his name was being used. He also added that he received no invitation from any political leader to be part of their campaign.
People reacted to this in the most amazing fashion:
Ghar se Kuch Dur
nikalte Chalte
hi.. hi.. pic.twitter.com/mx9pqdexkP

— Su$hVichaR (@Msush15) May 26, 2018
.@imVkohli hits the campaign trail in injury time! 😂😂 https://t.co/DoInqvNkyq

— Bhuvan Bagga (@Bhuvanbagga) May 26, 2018
hope at least original candidate turned up not a look alike 😂😂😂

— drupad shastri (@DrupadShastri) May 26, 2018
Garibon ka Virat Kohli… 😂😂😂 pic.twitter.com/3VPX5YZKZD

— Rafale Hunter (@Hippiezippie) May 26, 2018