Local motorcycle manufacturers have started producing bikes that will run on electricity rather than gasoline.
According to BBC Urdu, two motorbike assemblers from Punjab have set up a plant in Sahiwal to produce electric bikes in the country.
The initiative is aimed at reducing the country's dependence on oil as an energy source due to its soaring prices in the global market and environmental pollution.
With petrol prices increasing every next month, having a bike as a means of transport has become almost unaffordable for middle-class families.
The manufacturers are trying to address this issue, and they are producing cost-effective electric bikes that will be available for a lower price, and their maintenance costs will be a lot lower than the conventional ones.
Usman Sheikh, the CEO of Auj Technologies – a Lahore-based electric motorcycle company – says they have started a joint venture with MS Group.
He said that they are producing Pakistan's first budget-friendly electric motorbikes that will be called 'Jaguar.'
We are the first assemblers of electric bikes in Pakistan, and have designed them locally.
Usman assured that they have not compromised on quality to manufacture a low-end product.
"These bikes have the same shape and design as those running on petrol. But, they will run on electric batteries instead," he said, adding that the bike will be a high-performance product.
We have not compromised on engine and body parts, as they are equipped with very much similar to already available Japanese technology in the market.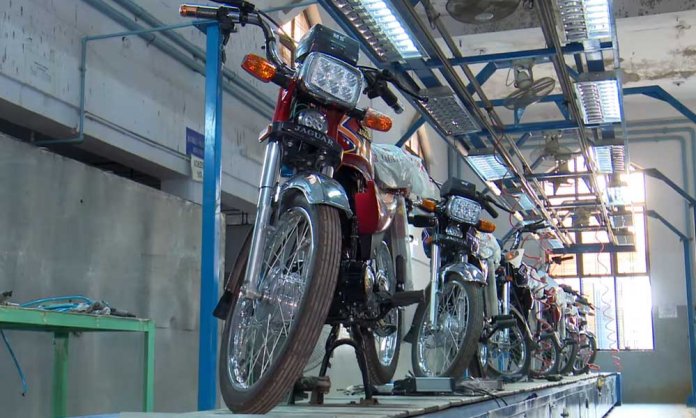 Usman says that his company is using the existing ecosystem of gasoline-based motors while developing an electric battery system.
We have designed and assembled controllers, battery management systems (BMSs), chargers, motors, and battery packs.
Range and Price
He said that the Jaguar bikes will have a range of up to 70km, and its battery can fully recharge in five hours.
The estimated cost of the motorbike is currently Rs. 88,000, but the company is trying to reduce the price before putting it on sale.
Auj Technologies is also preparing electric kits for ordinary motorcycles that will turn them into an electric bike.
Usman said that installing these kits on regular bikes is very easy because they are designed keeping the gasoline-based Japanese structure in mind.
Much Lower Travel Cost
Meanwhile, Chairman of MS Group said that the fuel cost of Jaguar bikes will be much lower.
If a normal (petrol bike) gives 50 km average, its monthly expenditure will be around Rs 4,000, but the cost of an electric bike will be only Rs. 500.
Jaguar electric bikes are expected to hit the market next year.