Qualcomm has announced its first Snapdragon 600 series SoC with 5G support. The new Snapdragon 690 is a successor to the SD 675 and is built on an 8nm process. It has been announced as Qualcomm's effort to make 5G more affordable worldwide.
The chipset is paired with an X51 modem and it supports SA, NSA, and global 5G bands if they are sub 6GHz. Qualcomm has not included mmWave support, which is going to be limited to the higher end 700 and 800 series SoCs like the SD865 and 765G.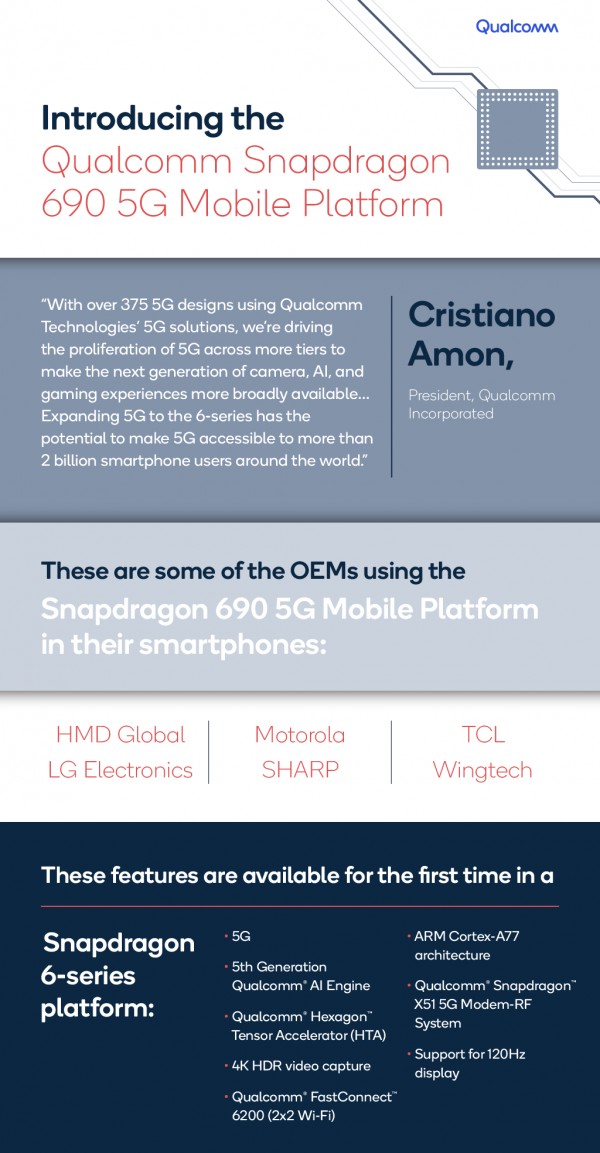 The Snapdragon 690 promises 20% better CPU performance and 60% faster graphics performance compared to the Snapdragon 675. It is capable of HDR video recording of up to 4K 30 FPS and still images of up to 192MP resolution. A new video enhancement feature improves data management by selectively enhancing moving parts of a video in lower bandwidth situations to maximize data saving.
We can also expect to see more mid-range smartphones with high refresh rate displays as the Snapdragon 690 supports 120Hz with up to FHD+ resolution.
It also features a new fifth-generation AI Engine known as ARCSOFT on-board that aims to enhance photography and allows for a smooth transition between different camera modes and filters. There is also support for Quick Charge 4+ and WiFi 6 on Qualcomm's FastConnect 6200 system.
HMD Global, LG, TCL, Motorola, Sharp, and a number of other OEMs are expected to announce devices featuring the new chipset soon. Qualcomm says that we will start seeing this new SoC in smartphones by the second half of this year.