According to Counterpoint Research's latest report, global smartphone shipments rose 132 percent Q0Q (Quarter-on-Quarter) in Q3 2020 but declined by 4 percent YoY (Year-on-Year) to around 380 million units.
Due to the lingering COVID-19 pandemic and a slowed global economy, many top-tier smartphone OEMs like Huawei, Apple, OPPO, Vivo, and LG also experienced YoY declines in Q3. However, some brands were able to defy the market trend and saw an overall surge in sales. Amongst these, the young brand Realme stands out with a 45 percent YoY growth and a whopping 132 percent QoQ growth.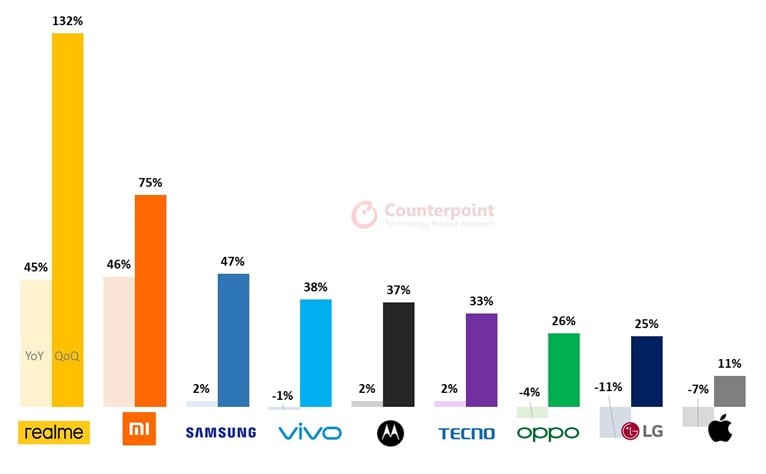 Smartphone Brands Shipments Q3 2020 YoY QoQ Growths Counterpoint Research" />
The company has now shipped over 50 million devices cumulatively, becoming the world's fastest smartphone brand to hit 50 million shipments since inception. This is noteworthy since the BBK-owned smartphone OEM has surpassed top players such as Samsung, Apple, Huawei, and Xiaomi.
The brand was established in 2018, and since then, it has focused on Gen Z by bringing cutting-edge technologies and features to the budget smartphone segment and using appealing marketing strategies to influence youngsters. Just a year after its inception, the company managed to differentiate its value proposition in the intense market competition and became one of India's top five smartphone manufacturers.
Moreover, in European countries such as Spain, Realme entered the top-5 brands' list within one month of launching.
Here is a Smartphone Shipment Distribution by Region: Q3 2018 vs. Q3 2020 for Realme.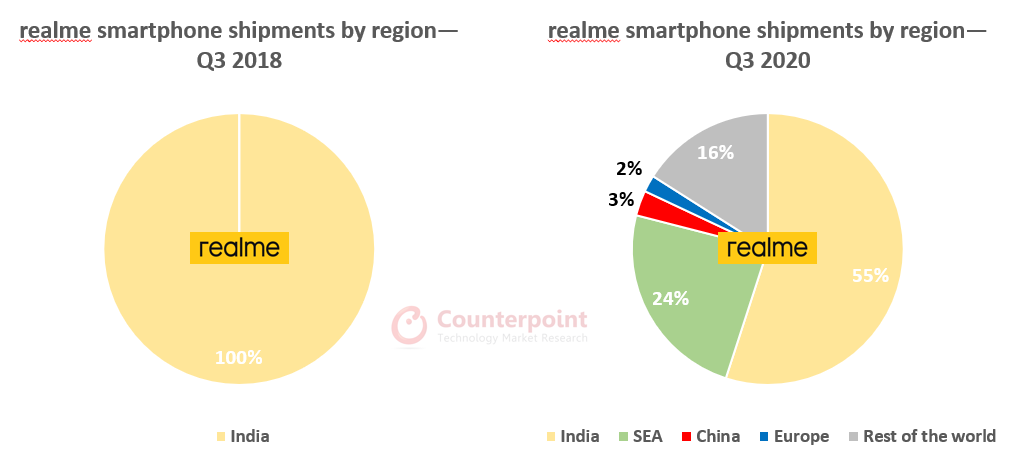 Realme has been targeting and conquering different markets around the world. In 2020, the company grew over 300 percent in India, grabbing a 15 percent market share. In the SEA region, Realme grew by 196% YoY and 47% QoQ, while in Europe, it continued to expand and successfully entered the top-5 brands' list in Russia.
It also became one of the Top-5 brands in several developed markets such as Australia and Singapore. Moreover, in the world's most saturated market China, Realme registered 90% QoQ growth in Q3 to become the 6th placed brand by shipment volume.