Nvidia has officially announced the RTX 3000 series graphics cards for laptops. Customers will be able to choose between the RTX 3060, RTX 3070, and RTX 3080 powered laptops that will start at $999, $1299, and $1999, respectively.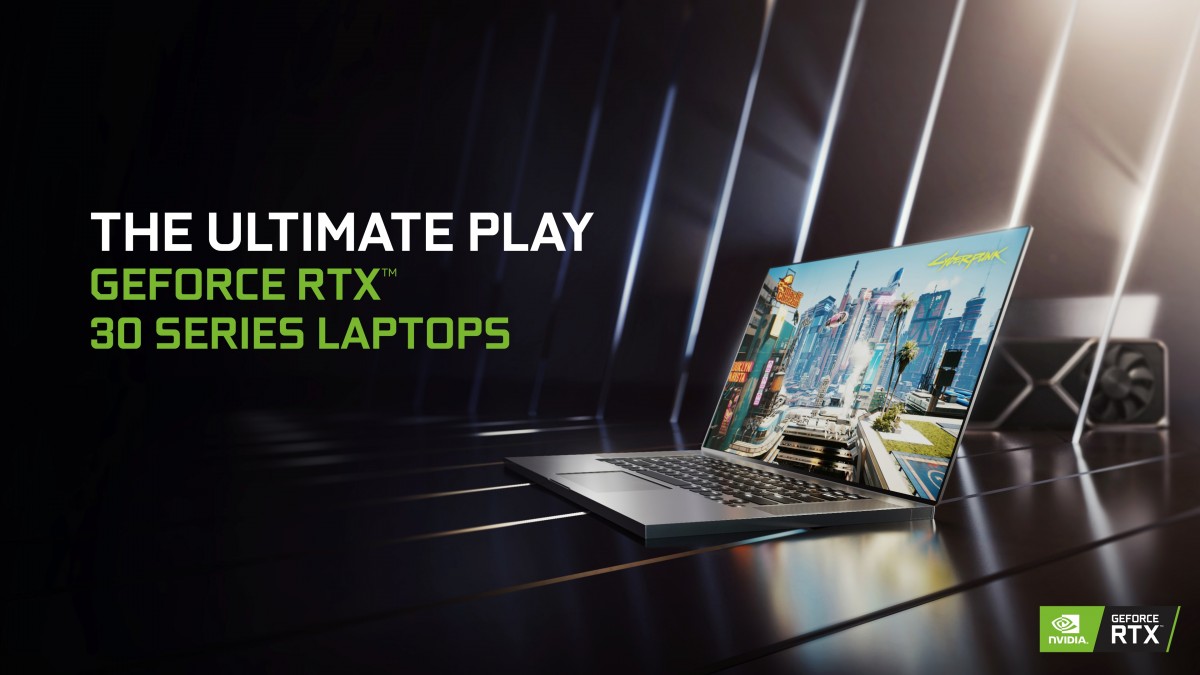 Similar to their desktop counterparts, the laptop version of the RTX 3000 series is based on NVIDIA's Ampere architecture with second-generation RT cores and third-generation Tensor Cores. This enables real-time ray tracing and improved AI processing and machine learning. All other features including DLSS, Reflex, and Broadcast will be supported as well.
Thanks to the third generation Max-Q tech, we will also get features like Dynamic Boost 2.0, which balances power between the CPU and GPU and the GPU's memory on a per-frame basis through AI. This will enable even better efficiency and power savings, resulting in better battery life. There's also Whisper Mode 2.0 which lets the user choose the desired level of noise from the cooling mechanism. AI features will also keep CPU and GPU temperatures under control.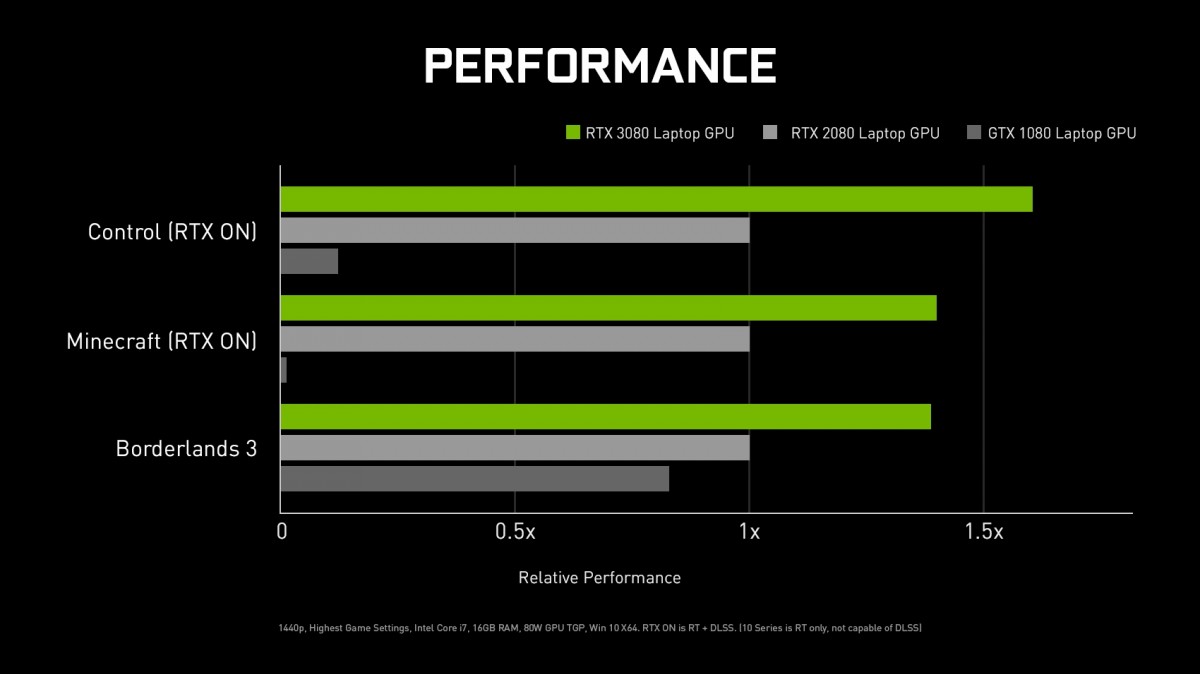 Nvidia's resizable BAR support will allow the CPU to use the GPU's entire memory all at once, which boosts performance in games resulting in higher fps in select titles.
The RTX 3000 laptop GPUs will become available with most of Nvidia's OEM partners starting January 26.
Nvidia's Cheapest RTX 3000 GPU Yet
Other than that, Nvidia has also released the desktop version of the RTX 3060 GPU, which is now the cheapest one in the series at only $329.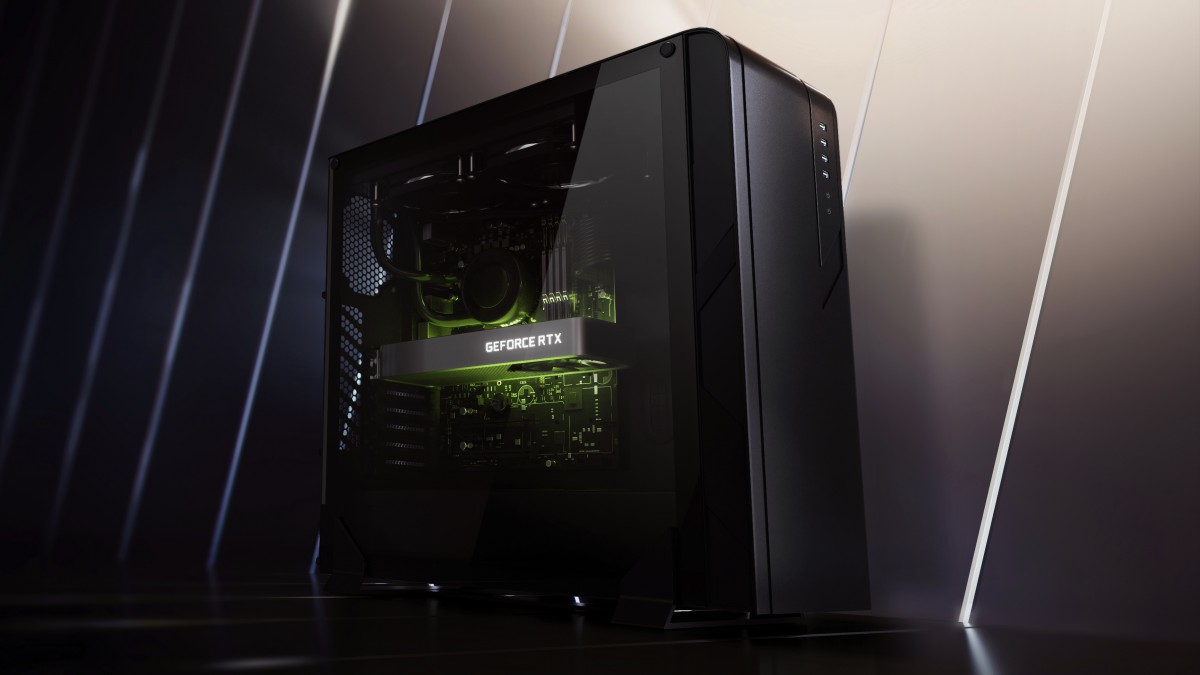 The RTX 3060 has a base clock speed of 1.32GHz and a boost clock speed of 1.78GHz. It features 3584 CUDA cores, 2nd generation RT cores, 3rd generation Tensor cores, and has support for a variety of other features such as DLSS, DirectX 12 Ultimate, PCIe Gen 4, HDMI 2.1, AV1 decode, and Direct Storage.
It has the aforementioned resizable BAR feature as well, which will also make it to other RTX 3000 cards later.
One odd thing about the RTX 3060 is that it has more memory than the 3060 Ti, 3070, and the 3080, featuring 12GB of GDDR6 on a 192-bit memory interface. Why Nvidia did this on its cheapest model and skimped out on the more expensive ones is unclear.
The RTX 3060 will be available with OEMs including ASUS, Colorful, EVGA, Gainward, Galaxy, Gigabyte, Innovision 3D, MSI, Palit, PNY, and Zotac. This will include both base versions and overclocked versions.