Pakistani Rupee lost 19 paisas against the US Dollar in the interbank currency market on Monday.
This comes after the rupee closed with a 14 paisas loss against the USD on Friday, which was a turnaround over Thursday's 16 paisas gain – the only time during the past week when PKR showed notable improvement against the greenback.
PKR closed at Rs. 160.52 to the USD on Monday (January 18) as compared to Rs. 160.33 on Friday.
---
ALSO READ
Rupee Loses Ground Against US Dollar and Major Currencies
---
However, former treasury head at Chase Manhattan Bank, Asad Rizvi, mentioned on Monday that the opening quote for USD tomorrow would be 160.50, calling it "Slightly higher" as banks will not receive funds in their Nostro accounts (i.e., accounts that a bank holds in a foreign currency in another bank) as markets in New York are closed today due to MLK day.
Opening quote for value tomorrow is 160.50.

Slightly higher opening for tomorrow's value as banks will not receive funds today in their NOSTO ACCOUNT, as New York is closed today.

— Asad Rizvi 🇵🇰 (@asadcmka) January 18, 2021
Against most other major currencies, PKR has been gaining for the most part since the beginning of the current calendar year. Monday's tally continued the trend.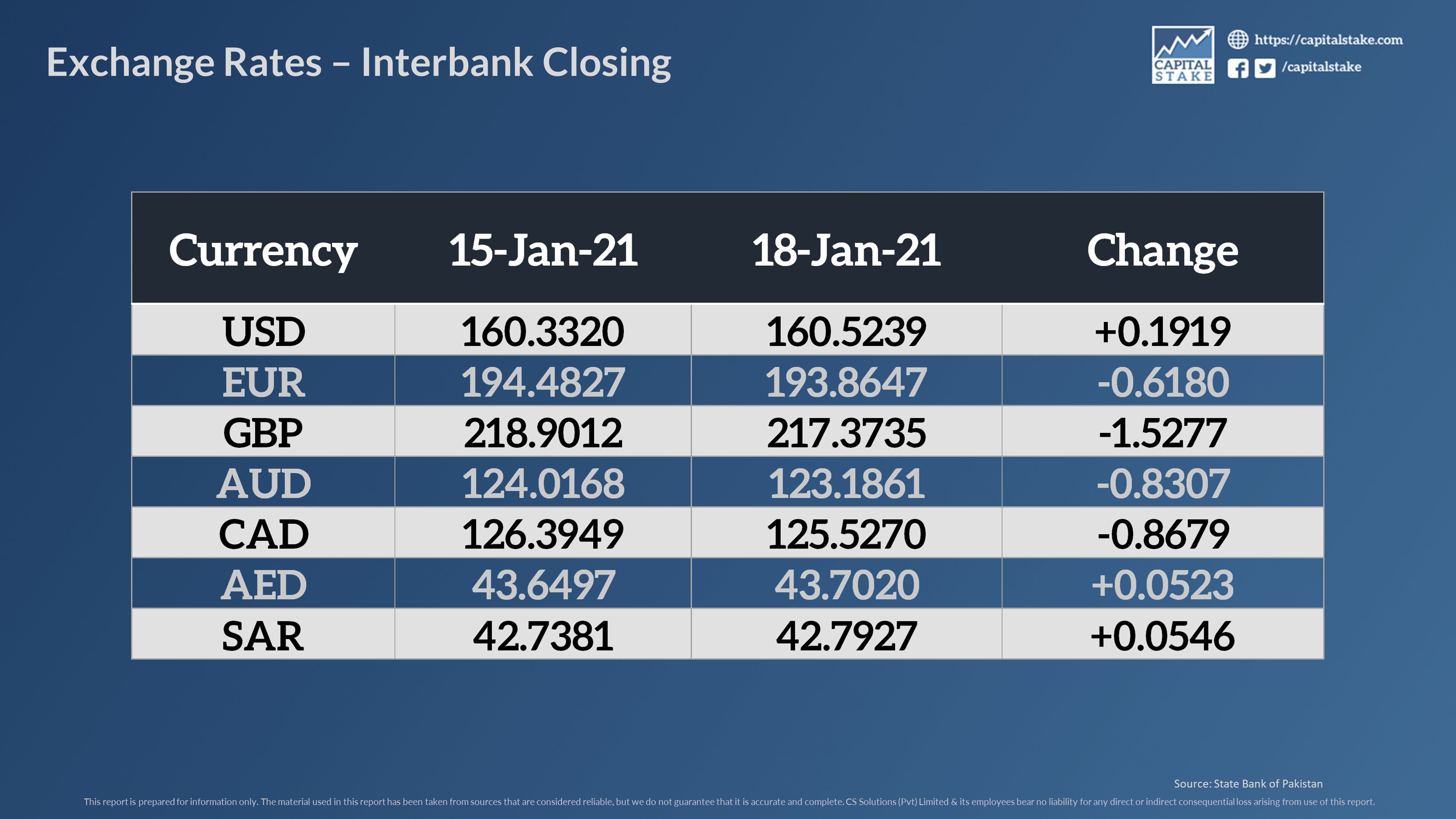 PKR gained 61 paisas to the Euro on Monday after posting a 13 paisas gain on Friday. Against GBP, PKR posted a significant improvement of Rs. 1.52 in the international currency market on Monday, reversing the loss of 9 paisas on Friday, which came after a gain of 58 paisas on Thursday.
Against the Australian Dollar, PKR posted a gain of 83 paisas, adding to the gain of 20 paisas on Friday. Against the Canadian Dollar, PKR gained 86 paisas on the opening day of the week.
---
ALSO READ
Pakistani Rupee Remains Stable Against All Major Currencies Except CAD
---
PKR deteriorated by 5 paisas against both UAE Dirham and Saudi Riyal on Monday, adding to PKR's 4 paisas loss against both currencies on Friday.