Pakistani Rupee (PKR) continued its appreciation against the US dollar today.
Advertisement
The rupee opened the week with a gain of 14 paisas against the US Dollar (USD) on Monday. Today, it jumped twice as much against the USD.
The local currency was closed at Rs. 156.71 against the USD on Tuesday (16 March), up 28 paisas as compared to Monday's closing of Rs. 156.99 against the greenback in the interbank currency market.
According to Arif Habib Limited, this is the strongest parity since March 9, 2020.
---
ALSO READ
Pakistani Rupee Hits Highest Value in Over A Year
---
PKR has gained 7 percent or Rs. 11.72, to the USD, since its lowest in August last year where it traded at Rs. 168.43 to the USD in the interbank currency market. This improvement in PKR's exchange rate is projected to reduce the pressure on debt payments to the tune of Rs. 1200 billion, according to Tresmark.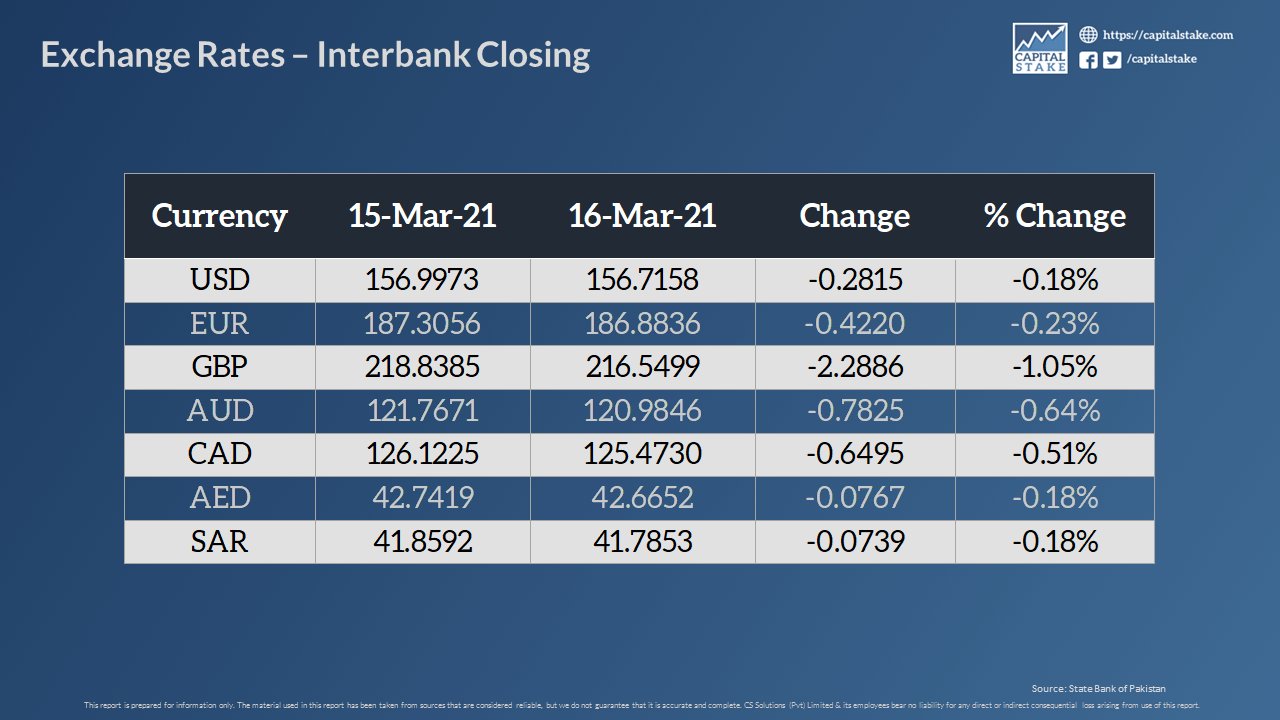 The PKR had posted blanket gains against all the major currencies on Monday as well on the second day of the week. It showed improvement against most of the major currencies on Monday while posting losses only against the Australian Dollar (AUD) and the Canadian Dollar (CAD).
---
ALSO READ
Rupee Posts Minor Loss Against the US Dollar
---
It improved by 25 paisas against the Euro on Monday and rose by 42 paisas today. It also appreciated by 24 paisas against the Pound Sterling (GBP) yesterday and posted a significant jump of Rs. 2.28 against the GBP today.
Advertisement
Yesterday, the PKR had posted a loss of 1 paisa against the AUD but reversed it today with a notable gain of 78 paisas.
The PKR's loss against the CAD yesterday was noteworthy when it deteriorated by Rs. 1.05. However, today, the PKR appreciated 64 paisas against the CAD.
It posted gains of 3 paisas each against both the UAE Dirham (AED) and the Saudi Riyal (SAR) in the interbank market yesterday and improved with gains of 7 paisas against both the currencies today.