The Pakistani Rupee (PKR) has continued its deterioration against the US Dollar (USD) in the currency market for the second day in a row. Some improvement for the local unit had come on Monday, but the PKR eroded against the greenback yesterday and today.
---
ALSO READ
Rupee Stumbles Against All Major Currencies Following An Increase in REER
---
The PKR closed at Rs. 154.77 to the USD at the end of the trading day today (Wednesday, 2 June), down 23 paisas as compared to Rs. 154.53 to the USD on (Tuesday, 1 June).
Regarding the PKR's continued downfall, dealers believe that there has been a demand for the USD in the market that has dragged the former down. This is despite the fact that consistent dollar inflows from overseas Pakistanis are helping the rupee remain steady.
This downfall may also be explained by the rise in the real effective exchange rate (REER) that surpassed the crucial benchmark base of 100 yesterday, clocking in over 103. A higher REER does not support the PKR.
However,  the PKR had a relatively better day against other major currencies after posting blanket losses in the interbank currency market yesterday.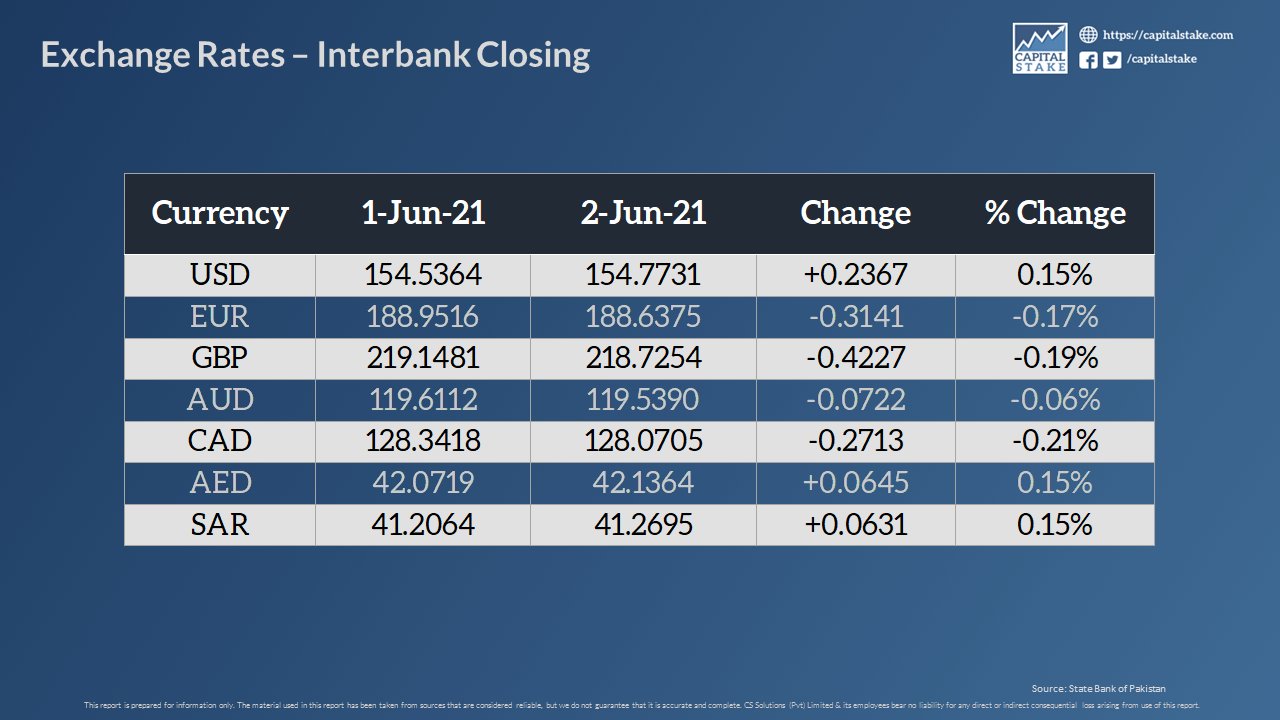 The PKR improved by 31 paisas against the Euro, by 42 paisas against the Pound Sterling (GBP), by seven paisas against the Australian Dollar (AUD), and by 27 paisas against the Canadian Dollar (CAD).
---
ALSO READ
Rupee Continues Improvement Against the US Dollar Second Day in a Row
---
However, the PKR continued to post losses against the UAE Dirham (AED) and the Saudi Riyal (SAR) each, losing six paisas each to both in the international currency market today.