Updated
Naheed.pk, the popular online shopping site, has just had its data leaked on a hackers' forum on the dark web. This breached info is now included in LeakBase's database.
The hackers claim that the database includes up to 23,000 user records and 108 order details including sensitive information such as user id, email, names, addresses, payment details, phone numbers, and more.
Have a look at the screenshot below.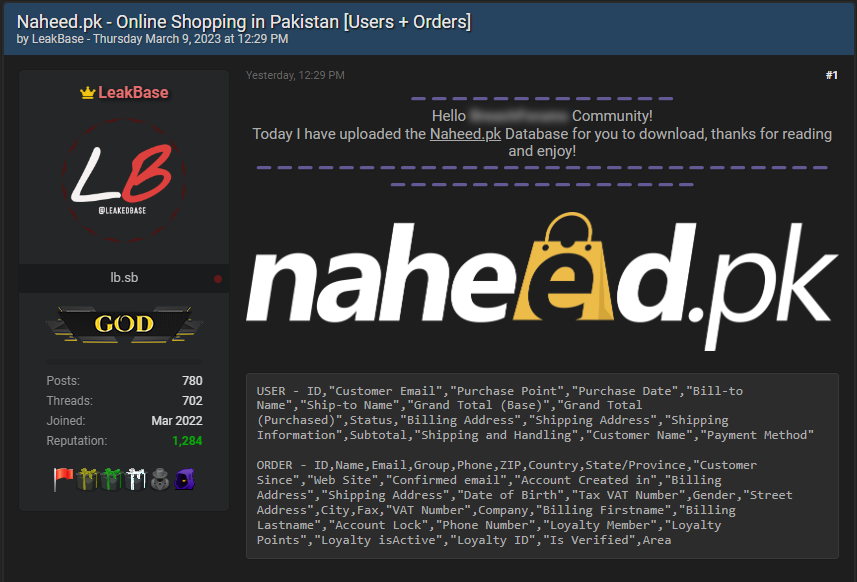 How Did It Happen?
We reached out to Naheed for a comment on the matter and they revealed that one of their developer's laptops was compromised due to multiple phishing attempts. This allowed the attackers to get hold of "non-critical test data" on one of their staging servers.
However, Naheed is currently reporting the incident to the relevant law enforcement so they can take action against the attack. The company also assures that no data from their live servers was compromised.
The data breach at Naheed serves as a stark reminder of the importance of data protection and cybersecurity. Online shopping platforms and other businesses that collect personal information must prioritize their customers' security and take proactive measures to prevent data breaches.
Customers, on the other hand, must also take responsibility for their own security by using strong passwords, monitoring their accounts regularly, and reporting any suspicious activity promptly.