According to research by Counterpoint, Huawei's smartphone market share has hit an all-time high for the first quarter of 2019.
Reaching levels higher than ever, Huawei has overthrown Apple and is now second only to Samsung with a stunning 17% market share.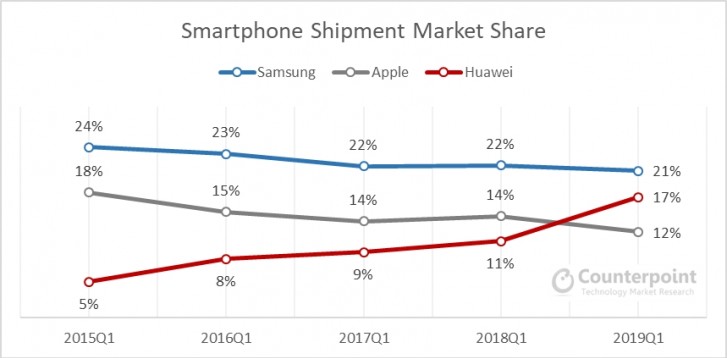 As seen above, Huawei keeps on gaining more and more market share, showing a 50% advance in just under a year. It's not all that behind Samsung and looking at the results from Apple, it is highly likely that Huawei is going to stay ahead of Apple for a while now. Samsung should be more worried about Huawei taking its place rather than Apple.
Huawei, on the occasion, commented that it is happy being the second largest smartphone company in the world and aims to take over Samsung by 2021, to which Samsung responded to by saying that it's going to retain the top spot in the upcoming years.
However, looking at the numbers, if these trends continue to move the same way in the future, Huawei will definitely be ahead of Samsung in no time.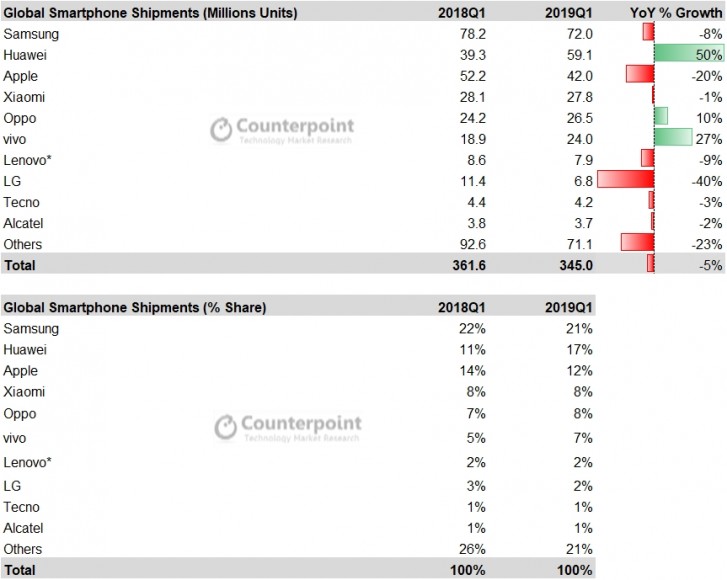 Other names in the top 5 spot include Xiaomi and Oppo with Vivo not that far behind.
Though there wasn't significant growth for these three, it is still pretty evident that the Chinese smartphone market is a force to be reckoned with. Xiaomi especially proves that making value-for-money phones is actually worthwhile as it continues to hog the 4th spot among the biggest smartphone makers.