Earlier reports regarding Samsung's next flagship, the Galaxy S21, said that the handset would feature the new Exynos 1000 SoC which would be faster than the Qualcomm Snapdragon 875. However, the benchmark reports that came from Geekbench were removed before it could be confirmed that they're legitimate.
We are now getting new reports of the Galaxy S21 featuring a different chipset, but the scores on Geekbench are lower than what we saw from the Exynos 1000. The device is shown with the model number SM-G996B, which is likely the Europe version for the Galaxy S21 that is listed with the "Exynos 2100" chip. The scores of this chipset are far lower than the Exynos 1000 and the Snapdragon 875, and only slightly better than the Galaxy S20's score.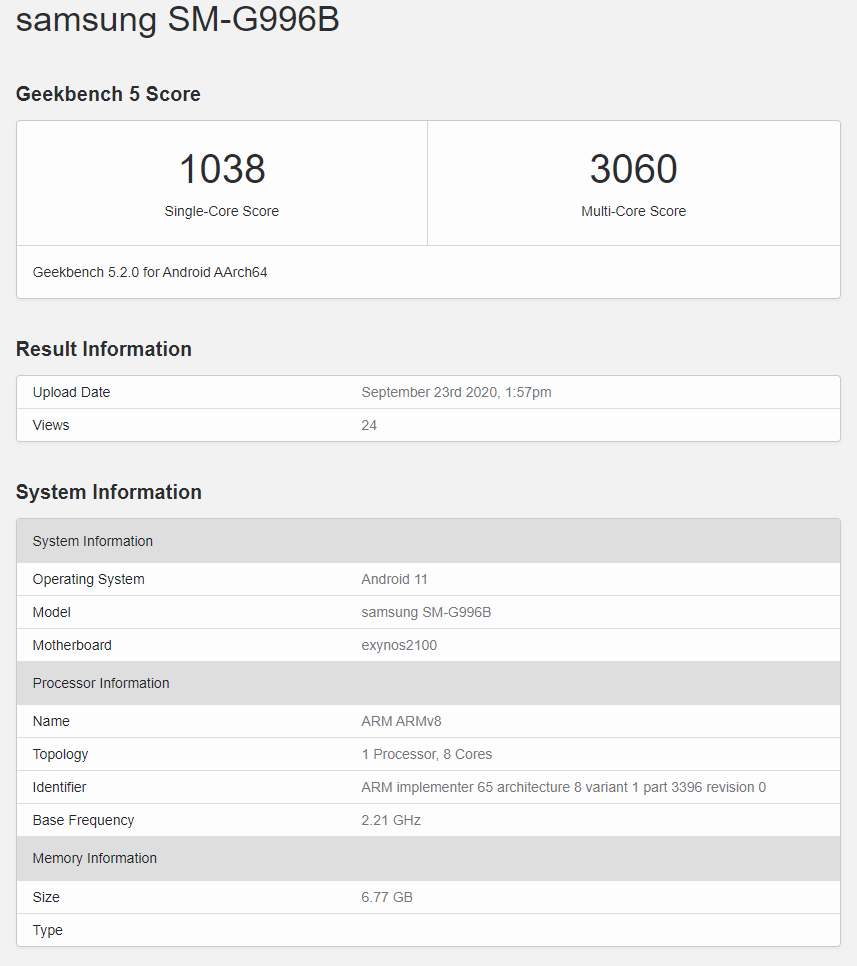 The benchmark listing also reveals 8GB RAM since the 6.77GB figure likely leaves out memory reserved for the GPU. This is the same amount of RAM seen on the 4G versions of the S20, meaning we will probably see higher RAM options on the S21 5G as well. The 2.2GHz base frequency is likely for the small CPU cluster on Exynos 2100 since Geekbench always reports small cluster frequencies. Based on this, we can assume a small overclock for all cores.
The Android 11 support comes as no surprise since the device is not coming out until Q1 2021. It also mentions a 4,800 mAh battery, which is up 300 mAh compared to the Galaxy S20.