As expected, the Smartphone industry did not have a profitable quarter at all amid the pandemic. The latest industry report on 2020's second-quarter smartphone sales shows that 20.4% fewer Smartphones were shipped during the period compared to last year's quarter.
Despite the downturn in overall shipments, there were no drastic changes among the top three companies. Samsung and Huawei both have a 20% market share each, whereas Apple is sitting at 13.5%. Going into details, Samsung shipped 54.7 million smartphones this year during Q2, down from last year's 75.1 million, and the previous quarter's 60 million figure.
Huawei's shipments didn't drop as much compared to Samsung as it sold 54.1 million units compared to last year's 58 million shipments. However, the company grew to secure 42.6% of the booming Chinese market. Apple showed the most steady performance of all as it only dipped from 38.5 million to 38.3 million in Q2 2020.
The rest of the top brands are still the same as before. Xiaomi currently has 10.2% of the smartphone market share, which is almost the same as last year. Oppo stands at 8.2%, and Realme was the only brand to show growth compared to the previous year. It is currently at 11%.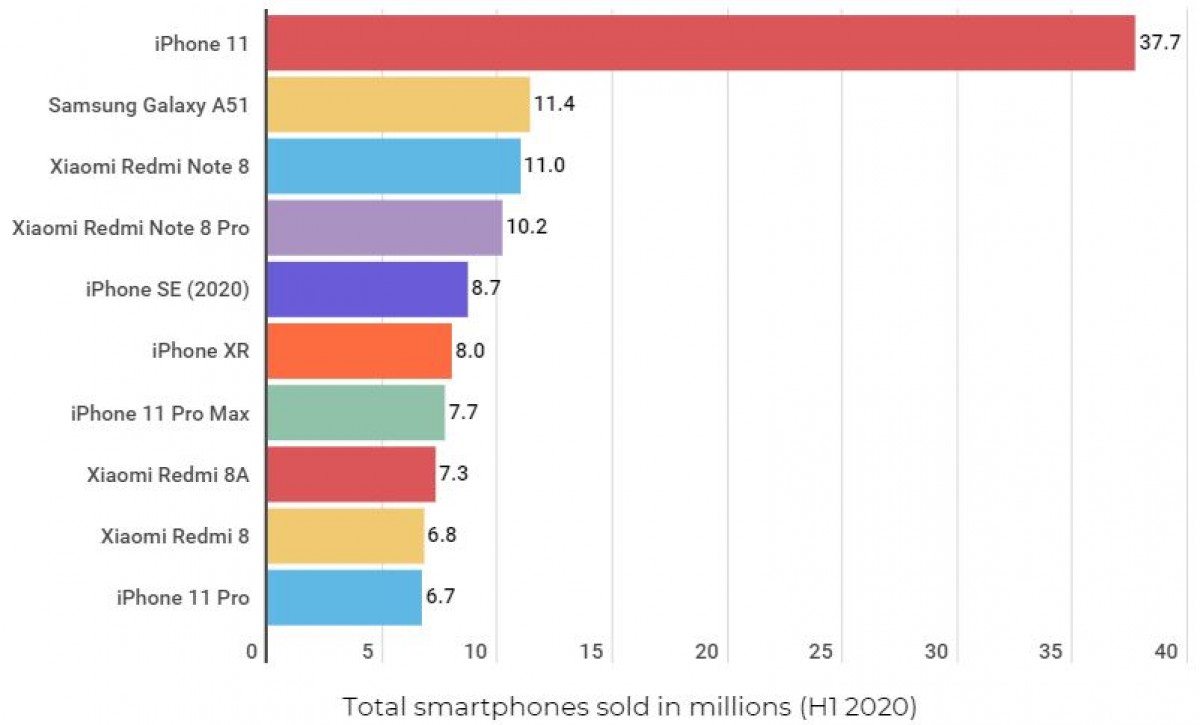 As for individual smartphones, iPhone 11 was the best selling handset in the first half of 2020. It had a massive lead over the other names in the top 5 list which included the Samsung Galaxy A51, Redmi Note 8 and 8 Pro, and iPhone SE 2020.
Source: ComprarAcciones