Samsung's latest flagship chipset, the 5nm Exynos 2100, features on the Galaxy S21 series, boasting major performance upgrades over previous generations. A benchmark report on the Exynos 2100 puts this performance upgrade into perspective.
The benchmark comes via a YouTuber called Golder Reviewer who shared an image containing performance and power efficiency ratings for flagship processors released between 2020 and 2021.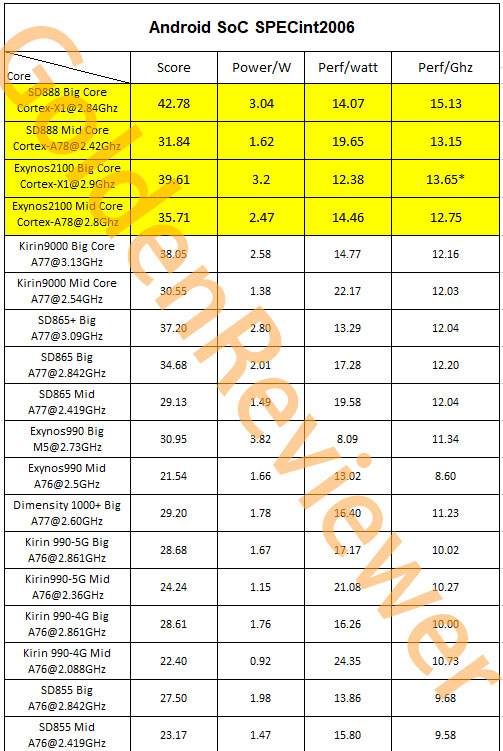 Samsung's last year's flagship, the Exynos 990's big core and mid-core scored 30.95 points and 21.54 points, respectively in terms of CPU performance, while the Exynos 2100's big and mid cores scored 39.61 points and 35.71 points, respectively. In terms of power efficiency, the Exynos 2100 also surpassed the previous generation Exynos 990 in terms of both mid and big CPU cores.
This goes to show that after taking some flak for previous generation Exynos chipsets, the company has clearly worked on improving its hardware and it has proved to be very solid. This is the main reason why the Galaxy S21 phones perform much better than before with improved power efficiency.
However, one key highlight in the benchmark report is that the Exynos 2100 fails to outperform the Snapdragon 888. It has slightly better CPU performance as well as power efficiency and the GPU is marginally better than the Exynos 2100.
Though it is worth mentioning that Samsung has been working with AMD to bring better GPUs in the future and they are expected to break cover during the first half of 2021.