Pakistani Rupee traded at nearly one year low at the interbank currency market today, at Rs. 157.85 against the US Dollar. The previous all-time low was recorded on March 10, 2020, at Rs. 157.35 to the USD on an intraday basis.
Rupee (PKR) has been on a constant improvement streak against the US Dollar for over two weeks now and has been periodically appreciating before that. PKR improved by 19 paisas in today's interbank session as the currency closed the day's trade at Rs. 157.845 to the USD.
---
ALSO READ
Rupee Continues to Strengthen Against US Dollar
---
Part of this consistent improvement is due to the inflow of foreign exchange through the Roshan Digital Accounts (RDAs). According to the latest figures released by the State Bank of Pakistan (SBP), Pakistan has received $554 million over five months from the RDAs, with 57 percent of the remittances ($316 million) from Saudi Arabia and the UAE.
Khurram Schehzad, CEO of Alpha Beta Core, said, "With USD inflows, PKR/USD is improving in both, Interbank as well as Open market. With the recent dip of 19 paisas, US Dollar now stands at a nearly one-year low in Interbank, trading at PKR 157.85."
He said, "USD is down 6.4 percent since its peak. It fell by PKR 10.58 since August 26, 2020 (PKR 168.43)."
The appreciation in PKR will have two-edged impacts on Pakistan. On the positive side, the fall in US Dollar would help reduce the debt burden by an estimated Rs. 1,160 billion with this decline and it will also likely lead to a decline in imported inflation, Schehzad said.
On the other hand, exports may get relatively become uncompetitive in pricing, he added.
The Rupee traded in a range of 24 paisa per USD, showing an intraday high bid of 157.60 and an intraday low offer of 158.10. Within the Open Market, PKR was traded at 157.85/158.80 per USD.
USD/PKR is a Playground for Speculators
The resistance levels of the Pakistani Rupee have been broken the past week, and the buying/selling of the USD/PKR remains evident. Resistance around the 156.0 juncture appears to be the next touching point if the USD/PKR continues to find buyers and the Pakistani Rupee gains additional value. The last time the USD/PKR traded near these price levels was in early March last year.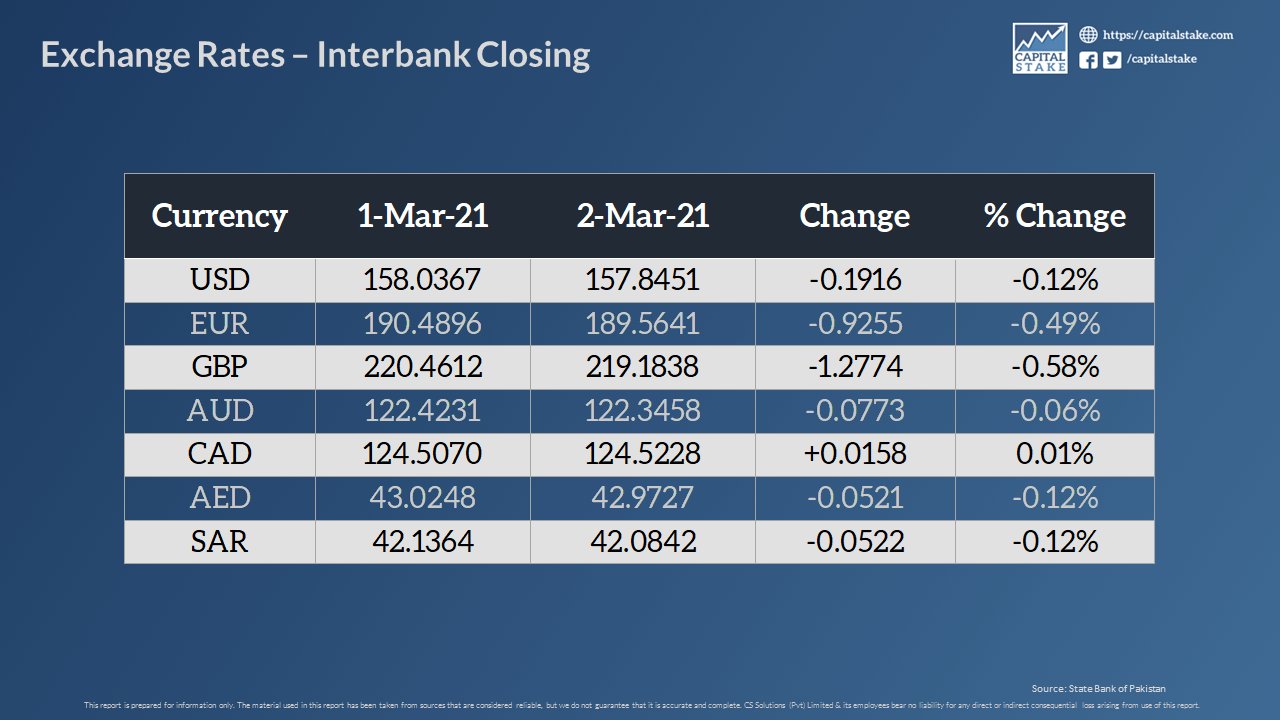 Against other currencies as well, PKR posted a third consecutively good day with the only change in the direction against the Canadian Dollar, with a loss of 1.5 paisas.
---
ALSO READ
Pakistani Rupee Posts Massive Gains Against All Major Currencies
---
PKR appreciated by 92 paisas against the Euro, by Rs. 1.27 against the Pound Sterling, by 7 paisas against the Australian Dollar, and by 5 paisas against both UAE Dirham and Saudi Riyal.