Pakistani Rupee traded at the highest value in nearly one year at the interbank currency market today.
From trading, at the lowest in August 2020, the rupee posted an improvement of 71 paisas today (March 3), closing at Rs. 157.13 to the USD in the interbank currency market.
The previous such a high was recorded on March 10, 2020, at Rs. 157.35 to the USD on an intraday basis.
Rupee (PKR) has been on a constant improvement streak against the US Dollar for over two weeks now and has been periodically appreciating before that. PKR continued to march upwards due to soft importers' dollar demand and inflows from remittances, Roshan Digital Account, and export proceeds.
Since last month, PKR has improved by Rs. 2.97, or 1.8 percent, to the greenback. Since the highest exchange rate, the PKR posted at Rs. 168.43 to the USD, now the Pakistani Rupee has improved by 6.8 percent.
---
ALSO READ
Pakistani Rupee Closes at Its Highest in Nearly One Year Against the US Dollar
---
The appreciation in PKR will have two-edged impacts on Pakistan. On the positive side, the fall in US Dollar would help reduce the debt burden with this decline and it will also likely lead to a decline in imported inflation.
On the other hand, exports may get relatively become uncompetitive in pricing, he added.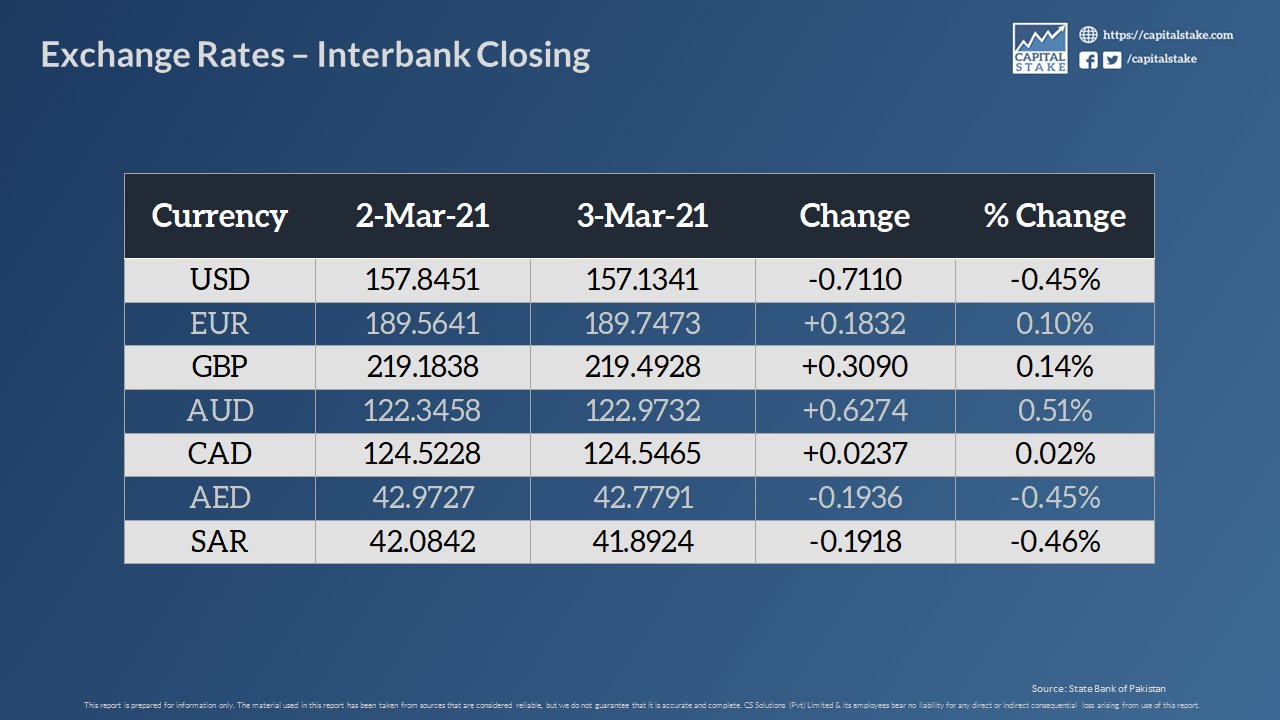 Against other currencies as well, PKR posted mixed results after three consecutively good days. Yesterday, PKR had posted a loss only against the Canadian Dollar.
---
ALSO READ
Rupee Continues to Strengthen Against US Dollar
---
PKR appreciated by 92 paisas against the Euro yesterday but today reversed by 18 paisas loss.
The improvement of Rs. 1.27 against the Pound Sterling yesterday also changed into 30 paisas loss for PKR today against the GBP.
Likewise, the 7 paisas improvement against the Australian Dollar yesterday switched into massive depreciation of 62 paisas for PKR against the AUD today.
PKR had posted a loss of 1.5 paisas against the CAD yesterday, which worsened today with 2 paisas loss for PKR.
PKR had also improved by 5 paisas against both UAE Dirham and Saudi Riyal yesterday, which continued today with an improvement of 19 paisas for PKR against both the currencies.