According to a recent report by IDC a data analytics firm, in the fourth quarter of 2020 shipments of wearables reached 153.5 million units which mark a year-on-year growth of 27.2 percent in this period. Moreover, the annual shipments rose to 444.7 million units with Apple leading the pack. This translates into a 28 percent increase.
The report details that the holiday season was a big driver of sales due to new wearable launches and reduced prices. However, the rising trend of smart wearables also plays a pivotal role in increased sales. This was also backed by the fact that disposable income rose due to falling expenditure on leisure activities during the pandemic.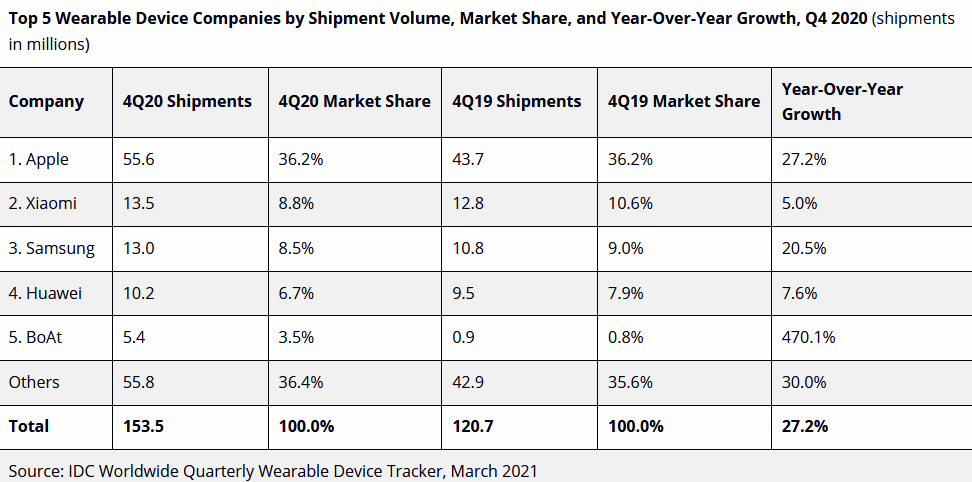 Apple dominated the market with an overall share of 36.2 percent in the fourth quarter of 2020. As compared to last year, its shipments rose by 45.6 percent. Its main selling products were Series 6, Watch SE, and Series 3. In addition to this, Cupertino's earbuds shipments also saw a surge during the quarter.
Even though the industry saw growth overall, the rise in sales was not even across various segments. Some companies were majorly affected by the ongoing issue of global semiconductor shortages. The wristband category saw a decrease in sales of 17.8 percent during the final quarter and only accounted for 11.5 percent of all wearables shipped. The hearables industry accounted for the largest share of shipments followed by smartwatches.