Nazish Jahangir is an emerging Pakistani actress/model as well as a former designer. She certainly is the talk of the town and has turned heads with her diligence, beauty and confident stature.
She has modeled for prestigious designers such as Al-Karam as well as Falak Fabrics. Her modeling career morphed into an acting career with Nazish starring in numerous dramas such as Tohmat, Bharosa, Thays, Khatakar, Gali Mein Aaj Chand Nikla, Mere Mohsin and Kahin Deep Jalai
Bold and Controversial
With an illustrious career come controversies. The model, due to her bold and brash nature, has found herself in walking into one controversy after another.
Recently, Nazish posted a screenshot of two pictures of Pakistani model Sadaf Kanwal on her social media. The picture made it clear that she was actually mocking Sadaf Kanwal over her looks.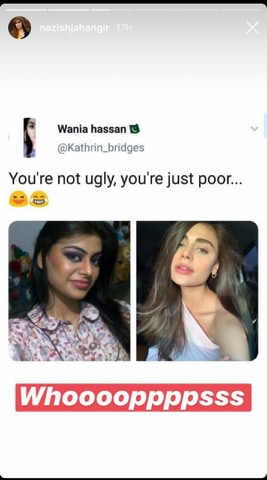 Why would Nazish do such a thing? Is she trying to stir up some controversy? Or is she calling out Sadaf over some bad blood?
Lets see what Sadaf Kanwal has to say about this. The actress has not responded to this message as of yet.
Past Antics
Nazish almost ended up getting kidnapped by a Careem driver once and lived to tell the tale. She described the incident on her Facebook:
Advertisement
https://www.facebook.com/permalink.php?story_fbid=1012083235608746&id=100004212365536
---
ALSO READ
Mohsin Haider Abbas Gets Flak Over Poor Reaction to Fatima's Divorce Plea
---
Three's a crowd
If you have been following this space, you may remember that Nazish Jahangir's name was also floated around during the Moshin Abbas Haider and Fatema Sohail saga. People alleged that Nazish was the other woman in Mohsin Abbas' life.
Fatema went public with explosive revelations about how Mohsin treated her during their marriage.
https://www.facebook.com/fatima.choudry.71/posts/1300791383412014
It was obvious that the ex-couple was going through a sensitive time.
If that wasn't enough, a picture of Mohsin with Nazish surfaced online. However, there was speculation about the authenticity of the image.
Advertisement
Mohsin Abbas got into another controversy recently. A picture of him video chatting with Nazish Jahangir went viral over the internet. They both were in their night dresses. What the hell is this? Such an open picture means Fatima was absolutely right about him.@MohsinAbbasH pic.twitter.com/8jwFYH3vPP

— Rizwan Rehman Khan (@I_amRizwankhan) September 11, 2019
This led Fatema to send a barrage of texts to Jahangir, lashing out in anger. And Nazish retaliated in return.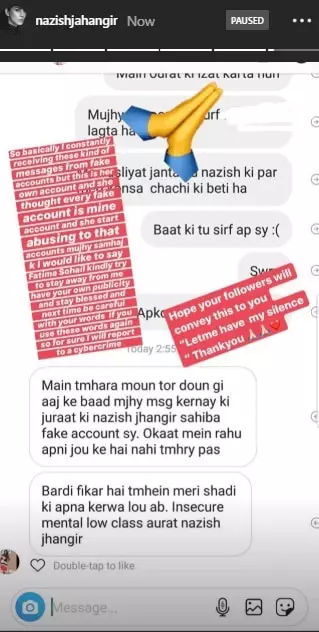 She went on to warn Fatema from every messaging her again.
"I would like to say Fatima Sohail kindly try to stay away from me have your own publicity and stay blessed and next time be careful with your words if you use these words again so for sure I will report to a cybercrime. Hope your followers will convey this to you 'Let me have my silence' Thank you" 
It was speculated that Mohsin Abbas and Nazish Jahangir were set to marry. But Nazish brushed off the accusations citing them as fake news.
---
ALSO READ
Meet the Pakistani Voice Actors Behind Dirilis Ertugrul Urdu Version
Advertisement
---