Yasir Shah, the magical leg-spinner has placed another feather to his cap, as he became the fastest bowler to bag 200 wickets in Tests.
Shah came into the series decider with 195 wickets to his name, thanks to the match-winning, record-breaking performance in the Dubai Test.
He picked up a total of 14 wickets in the game to bring Pakistan back into the series.
The 32-year-old leggie also equaled legendary Indian bowler Anil Kumble's record after taking ten wickets on the third day of the second Test. He got an 8-wicket-haul in New Zealand's first innings, wrapping them up for 90 runs.
He needed just five wickets to smash Australian leg-spinner Clarrie Grimmett's record of 200 wickets in 36 Tests – in 1936.
In the third and deciding Test, Yasir Shah reached the 200 wickets tally in the second innings after dismissing New Zealand's newcomer, William Somerville.
The 82-Year-Old Record
Aussie bowler Grimmett reached 200 Test wicket milestone in just 36 Tests matches. His country mate Dennis Lillee and Pakistani pace machine Waqar Younis took 38 games each to achieve the hallmark.
South Africa's fiery fast bowler Dale Steyn was just one match behind in the list. But Shah made it in only his 33rd Test match – breaking an 82-year-old record.
Here's the complete list: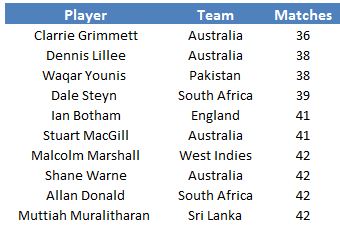 Yasir Shah – Remember the Name!
It is not the first time the always-smiling giant-killer has achieved a milestone; the leggie has developed a habit of breaking records.
Shah always keeps the statesman busy with his performances on the field, as he was also the fastest to 50, 100 and 150 wickets in red-ball cricket. He's simply a magician!