Young gun Muhammad Abubakr Farooq has recently created history at the Martial Arts Championship by becoming the youngest British-Pakistani to bag three medals (bronze, silver, and gold) at the age of just 8.
The youngster, with grassroots from Chakwal, Pakistan, bagged the medals in the following categories:
Gold — Weapons (Nunchaku)
Silver — Fighting (Kumite)
Bronze — Self-Defence
This is not the first time Muhammad Abubakr has stepped into the spotlight as he previously won competitions in the Dojo Karate squad, which also acted as a qualifier for the Martial Arts Championship's silver category.
Following the victory, Abubakr said:
All my success is due to my parents and my trainer at the club; they have supported me all the way through. It's been two years here at the club and I have worked really hard. It wouldn't have been possible without them.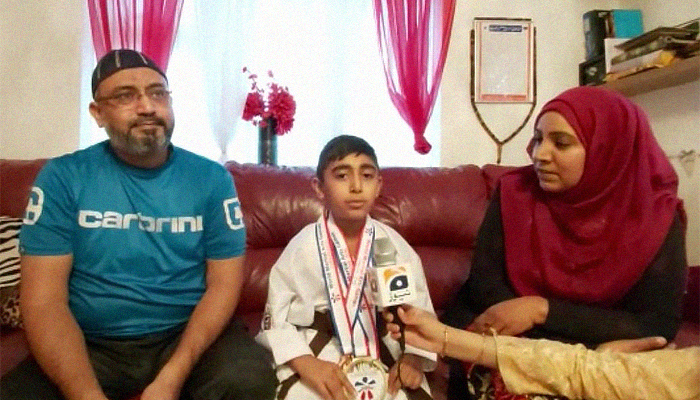 Abubakr's father, who has been a constant source of happiness for him, claimed:
Asian parents tend to focus on education more often. We should focus on our children's education but sports is where our Asian community is not very supportive of their children. As a parent, if we support they can become a role model in society.
He further added that Abubakr is an inspiration for all the kids and they too can follow in his footsteps if they train hard enough.
At the age of just eight, he is an inspiration for so many kids who were busy playing computer games but after Abubakr's success in martial arts, so many young kids have joined martial arts clubs. It's an honour for us as a parent that our son became the youngest British-Pakistani to win three medals at the championship.