The latest addition to Qualcomm's chipset lineup is the Snapdragon 7+ Gen 2, designed for the upper mid-range market. It's worth noting that there wasn't a Snapdragon 7+ Gen 1 or a Snapdragon 7 Gen 2. The original Snapdragon 7 Gen 1 was only featured in a few devices.
But that could change with this latest release.
CPU and GPU
The new Snapdragon 7+ Gen 2 offers significant performance and power efficiency improvements, with the main Kryo CPU core running at 2.91 GHz. The 1+3+4 CPU package also provides a performance boost of over 50% compared to the SD 7 Gen 1.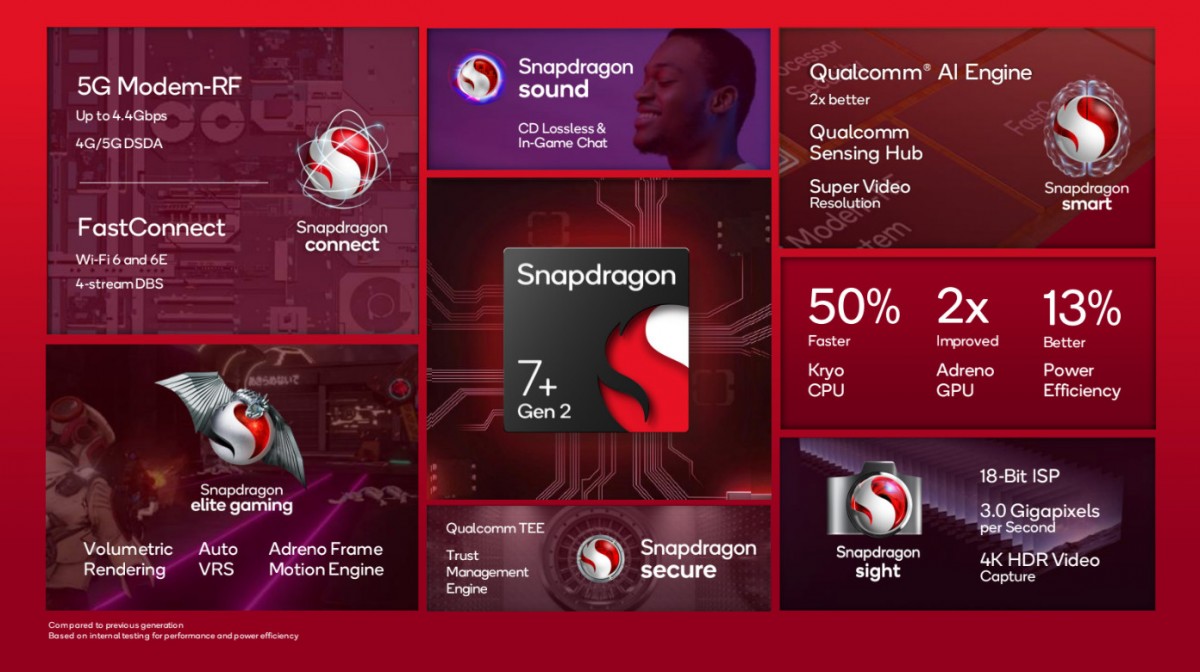 Conversely, an Adreno GPU with no specified name offers a remarkable 2x performance improvement, while efficiency enhancements are more moderate, sitting at around 13% across different scenarios.
Qualcomm typically doesn't disclose the exact specifications of its CPU or GPU package when making announcements.
Gaming Features
Additional functionalities of the platform comprise Auto Variable Rate Shading that renders gaming foreground scenes in high resolution, while the background is kept in low resolution to conserve power and resources.
Moreover, Volumetric Rendering is integrated, a technology that premiered with the Snapdragon 8 Gen 1 platform.
Photography
The ISP (Image Signal Processor) has also undergone upgrades, being elevated to an 18-bit Triple ISP for better low-light photography through the stacking of 30 images into one. The platform also facilitates the use of 200MP sensors and enables HDR video capture with triple exposure from two cameras simultaneously.
AI and Connectivity
Qualcomm's AI Engine boasts a 2x enhancement in performance and up to 40% battery conservation per watt for AI operations.
In terms of connectivity, the Snapdragon 7+ Gen 2 incorporates the Snapdragon X62 5G Modem-RF System, which enables download speeds of up to 4.4 Gbps. An important feature that the 7 series now supports is 4G/5G Dual-Sim Dual Active (DSDA), allowing for simultaneous use of both network SIMs.
Availability
Smartphones equipped with this silicon will hit the market as early as this month, meaning we won't have to wait long. We can expect to see it on upper mid-range phones rather than budget or flagship devices.