According to Counterpoint's latest research, the base model of the Samsung Galaxy S23 Ultra has a Bill of Materials (BoM) cost of only $469. This particular unit comes with 8 GB of RAM, 256 GB of storage, and sub-6GHz 5G capabilities.
While the BoM cost for the 2022 model remains unknown, the previous models provide some insight. The Samsung Galaxy S21 Ultra with Snapdragon 888 chipset, 128 GB of storage, and mmWave 5G had a BoM cost of $533. Prior to that, the Galaxy Note 20 Ultra with Snapdragon 865+ chipset, 128 GB of storage, and mmWave 5G had a BoM cost of $550.
It is worth noting that Qualcomm's share of the BoM has reached an "all-time high," surpassing Samsung by one percentage point, sitting at 34%. This increase is largely attributed to the inclusion of Qualcomm's chipset and various components related to wireless connectivity.
In addition to these components, Qualcomm also designs the ultrasonic fingerprint readers found in the S23 series, as well as audio electronics and power management ICs.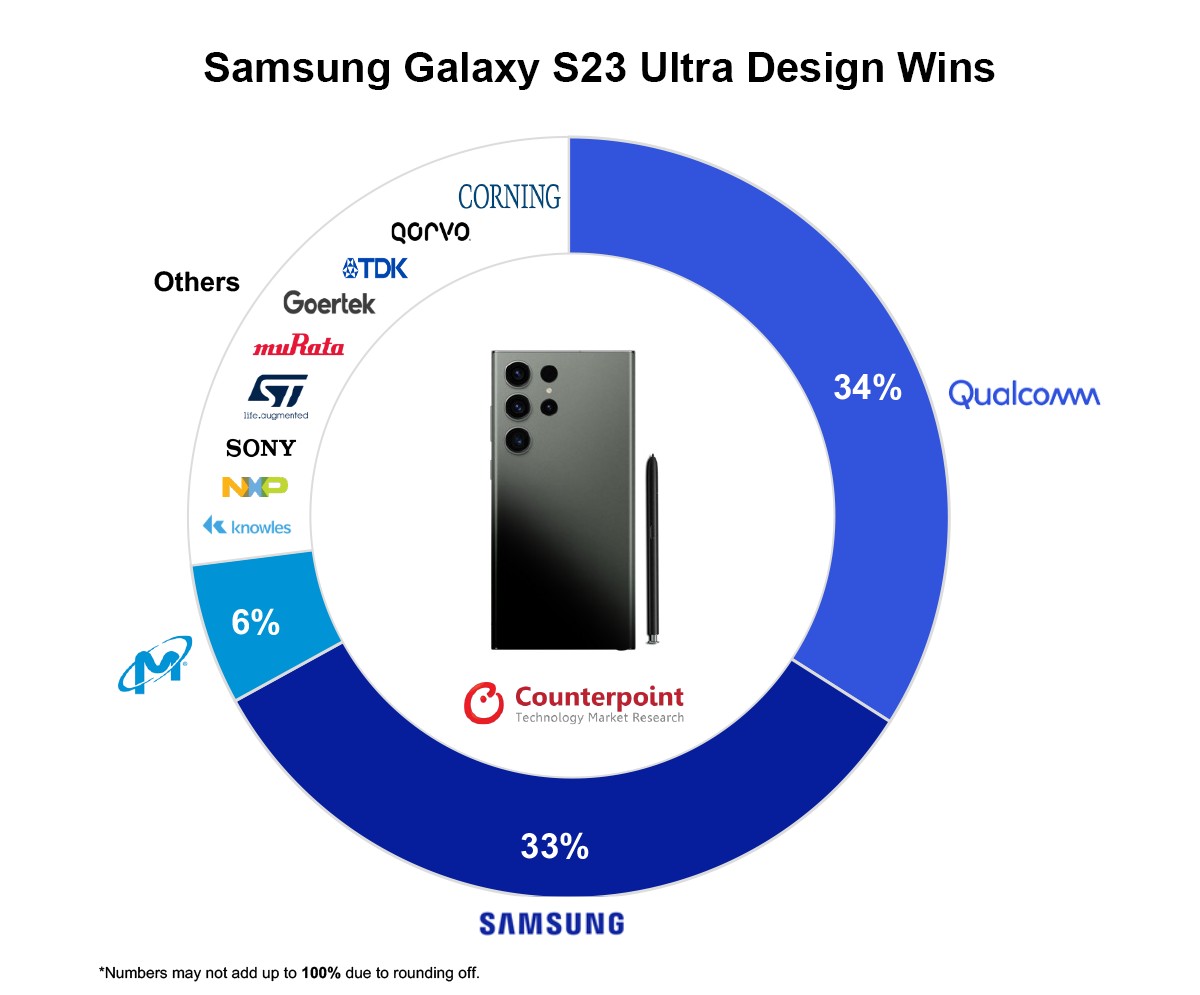 The most expensive components in the Samsung Galaxy S23 Ultra are the custom Snapdragon 8 Gen 2 for Galaxy chipset and the components related to cellular connectivity. While the display and camera modules also require a significant portion of the budget, their combined costs are still lower than that of the chipset and cellular parts.
Samsung itself provides the LTPO display, NAND flash, battery package (featuring a cell manufactured by ATL), as well as two out of the five cameras. These two cameras include the high-resolution 200MP HP2 sensor and the 12MP selfie camera (S5K3LU).
On the other hand, Sony supplies the two 10MP IMX754 sensors for the telephoto and periscope cameras, as well as the IMX564 sensor for the ultra-wide camera.
It becomes apparent why Samsung persisted with Exynos for an extended period, as it encompassed a Samsung-designed and fabricated chipset paired with a Samsung modem. If the in-house chip had been competitive, the cost chart would have presented a notably different outlook.
In any case, a few additional companies contribute their respective components. STM manufactures the laser autofocus (AF) module, touch panel controller, as well as various sensors such as the accelerometer, gyroscope, and barometer.
NXP produces the wired charging integrated circuit (IC), while Convenient Power supplies the wireless charging IC.
It's important to note that the bill of materials (BoM) does not account for other expenses like research and development, marketing, shipping, warranty, customer support, and more.
Moreover, most regions receive versions with 12 GB of RAM, and some variants also include mmWave connectivity, resulting in higher prices for those particular models.