The year 2019 has finally come to an end with all its glitz and glitter, leaving behind many memories.
Like always, the leading search engine, Google, has released a list of most searched personalities throughout the year, which has some surprise entries.
The list features famous personalities from different fields including, showbiz, cricket, and media.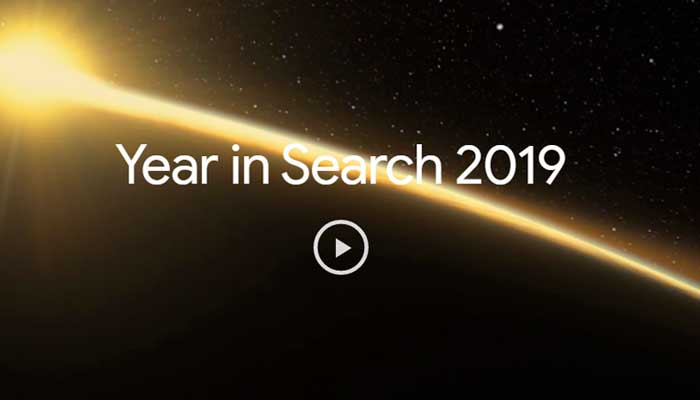 Among the most searched people in Pakistan is Indian pilot Abhinandan whose plane was shot during an airborne battle and was caught by Pakistan army.
Another surprise entry is of controversial singer Adnan Sami, who left Pakistan for Indian citizenship and is active on Twitter against the country (or is he?).
---
ALSO READ
Major Adnan Sami Becomes Part Of The 'World's Most Dangerous Spies' List [Satire]
---
Let's take a look at Google's list of the top ten most searched personalities in Pakistan.
Madiha Naqvi
Madiha Naqvi is a Pakistani TV anchor and the wife of renowned politician Faisal Sabzwari. The couple married earlier this year in a private ceremony, which brought her among the top searches.
Abhinandan
Indian Air Force pilot Abhinandan is famous across the world for all the wrong reasons. He lost an air battle, lost his aircraft, and got arrested on enemy territory. He was returned as a gesture of peace.
Since then, Abhinandan has become the butt of all jokes. He remained the ninth most searched personality in Pakistan this year.
Alizay Shah
The budding Pakistani actress Alizay Shah is making strides in the industry with her exceptional acting talent. Shah is playing a lead role in one of the trending dramas, 'Ehd-e-Wafa,' and this is probably why he has been google quite a lot.
Mohammad Amir
Star fast bowler Mohammad Amir remained the seventh most search personality in Pakistan, according to Google. This might be because of his performances in the ICC Cricket World Cup and later on, his retirement from red-ball cricket.
Sarah Ali Khan
Emerging actress Sarah Ali Khan is the only Bollywood actress to make it to the list. Sara is Saif Ali Khan's daughter and has made her Bollywood entry in December last year. She is also very famous for her unique fashion sense.
Adnan Sami Khan
Adnan Sami Khan, a prominent singer from Pakistan, just recently acquired Indian citizenship and shifted to Mumbai with his third wife. Throughout the year, he remained in the news for his controversial political statements.
Asif Ali
Swashbuckling Pakistani middle-order batsman Asif Ali shot past Mohammad Amir in popularity this year. However, there was an unfortunate reason behind him being in Google searches – his four-year-old daughter's sad demise due to cancer.
Babar Azam
Azam, the youngest Pakistani skipper in the shortest format, remained in the news across the year for his blistering performances. Babar continued to perch on top of the ICC's list for T20 batsmen. He was also the most successful batsman in the World Cup and against the Australia tour.
Waheed Murad
Years after his death, Pakistan's own 'Chocolate Hero,' Waheed Murad is still loved and remembered by his fans. His fame can be gauged from the fact that the actor remained the second most-searched personality in Pakistan in 2019.
Naimal Khawar
The marriage of Hamza Ali Abbasi and Naimal Khawar was one of the most discussed topics on the internet throughout the year. The couple made headlines for their simple yet elegant wedding events. However, Naimal, the surprise bride of Hamza Ali Abbasi, became the most searched personality after the event.
---
ALSO READ
Naimal Khawar Has a Funny Nickname For Hamza Ali Abbasi's Sister
---