Huawei's Spring 2020 launch event is set to take place in just a few days from now and there are a number of major announcements planned for it. One of the major products set to debut on this event is the Huawei X65 Smart Vision TV and new leaks from Weibo have revealed a handful of interesting details.
The leaked image posted on Weibo reveals a few key specifications and features of the X65 Smart TV.  It will have an OLED display, a 14 speaker sound field system, and a 24MP camera with AI.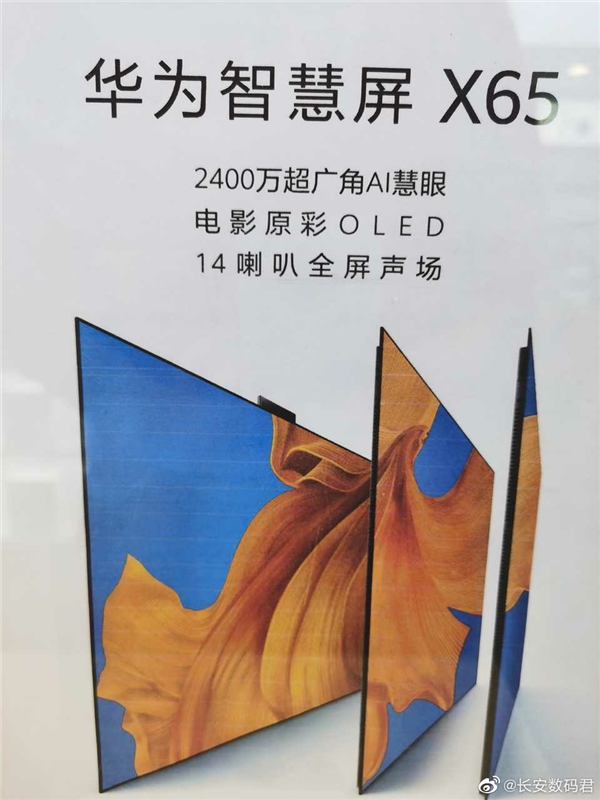 The image also shows the TV's razor-thin bezels and a wide pop-up module at the top for a wide-angle camera lens. Previously Huawei has also revealed that the TV will be controllable without a remote or even voice commands, hinting towards air gestures. This would make the Huawei X65 Smart Vision TV be the first to bring air gestures.
The Air Gestures feature will likely be powered by the AI camera on top of the TV, but there is no official confirmation on that yet. As for the OS, the TV will likely boot HongMeng OS, also known as Harmony OS.
That is about the extent of details available on the Huawei X65 Smart TV but we will likely hear more until the official launch on 8th April.