The Pakistani Rupee crashed to its lowest ever against the US Dollar on Monday. It lost 52 paisas against the latter to close at 169.60.
Advertisement
The rupee (PKR) broke its previous record-low of 169.12 against the US Dollar (USD) on 15 September.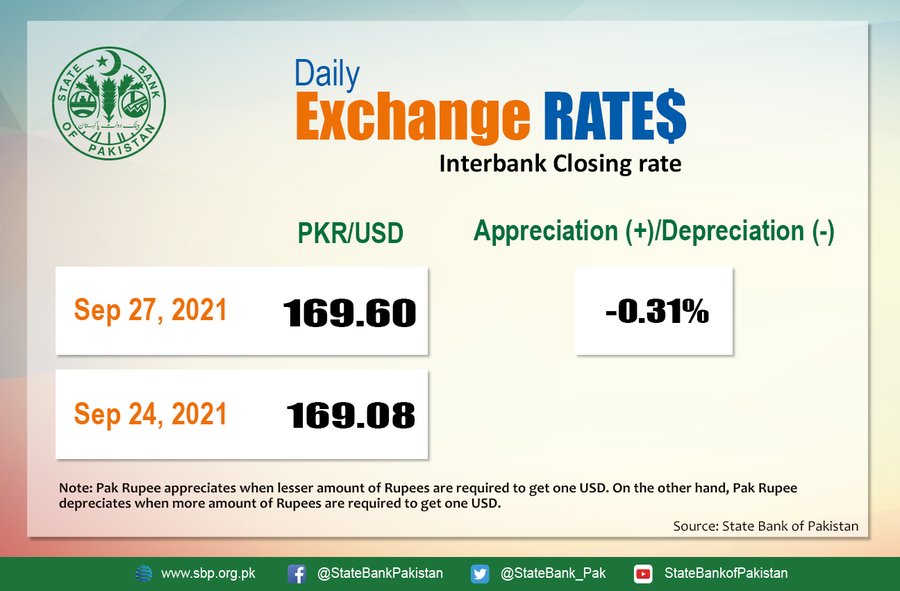 It has declined by 10.21 percent since its peak in May, and by 7.11 percent since June amid the increasing imports and a weakening current account deficit.
Still, the foreign exchange reserves have stayed strong, with the real effective exchange rate at 95.
The State Bank of Pakistan recently raised its policy rate by 25 basis points to 7.25 percent.
A.A.H Soomro, while commenting on the Rupee, told ProPakistani that "Near term debt repayments of Chinese investors, Sukkuk maturity and Trade deficit would create pressure. However, with REER at 96sh, PKR seems balanced. Let's see if imports recede after new checks on the import of vehicles."
Advertisement
Talks on the next phase of funding with the International Monetary Fund are due to start on 4 October. Analysts expect the PKR to stabilize and appreciate by three to five percent after the conclusion of these talks.
USD/PKR interbank rate fell all time low of 169.60, declined by 52 paisa or 0.30% to close at 169.60 today.#USD #PKR #Dollar #Imports #Pakistan #Tresmark pic.twitter.com/Ok3UQc4T7c

— Tresmark (@info_tresmark) September 27, 2021
A Tresmark analyst remarked that the rupee has depreciated due to higher import payments, and explained that the central bank is "taking initiatives to control the balance of payment by implementing different policies but the rupee outlook is bearish by market observers".
The former Treasury Head of Chase Manhattan Bank, Asad Rizvi, tweeted that the rising prices of oil and the recent tax break on Afghani imports will add pressure on the PKR.
INTER BANK MARKET….

Tax break announced on Afghani imports may help for cash or barter trade based on policy. But alongwith rising oil prices, both will add pressure on BOP.
Hence, I still do not see respite for #PKR as payment size of oil tankers have substantially increased.

— Asad Rizvi 🇵🇰 (@asadcmka) September 27, 2021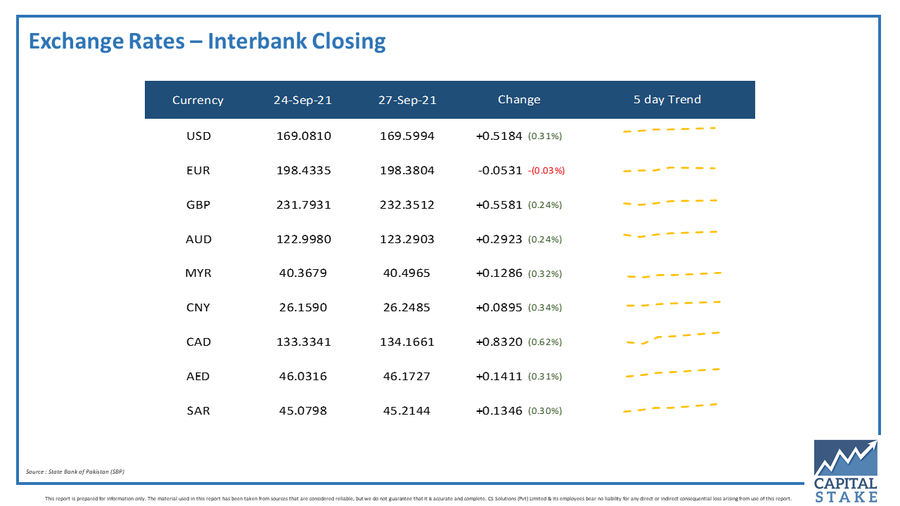 The PKR depreciated against most major currencies today. It lost 56 paisas against the Pound Sterling (GBP), 83 paisas against the Canadian Dollar (CAD), and 29 paisas against the Australian Dollar (AUD). It also depreciated 14 paisas each against the Saudi Riyal (SAR) and the United Arab Emirates Dirham (AED).
Meanwhile, it appreciated five paisas against the Euro.