Oppo recently unveiled its latest foldable, the Find N3 Flip, but there were also other notable products at the launch event. The new Oppo Watch 4 Pro brings advanced sensor to the table and there is also an affordable Oppo Watch SE.
Oppo Watch 4 Pro
The Oppo Watch 4 Pro retains a design akin to its predecessor, the 3 Pro while incorporating enhancements both internally and externally. On the external front, the watch's casing is now crafted from stainless steel, a departure from its previous aluminum build. This alteration is anticipated to augment its durability, albeit accompanied by a slight increase in weight (52.3g compared to the prior 37.5g).
The stainless steel casing features a brushed finish that contrasts appealingly with the knurled texture of the crown. Furthermore, the underside of the watch employs ceramic material, chosen for its durability and its ability to prevent any potential skin sensitivities.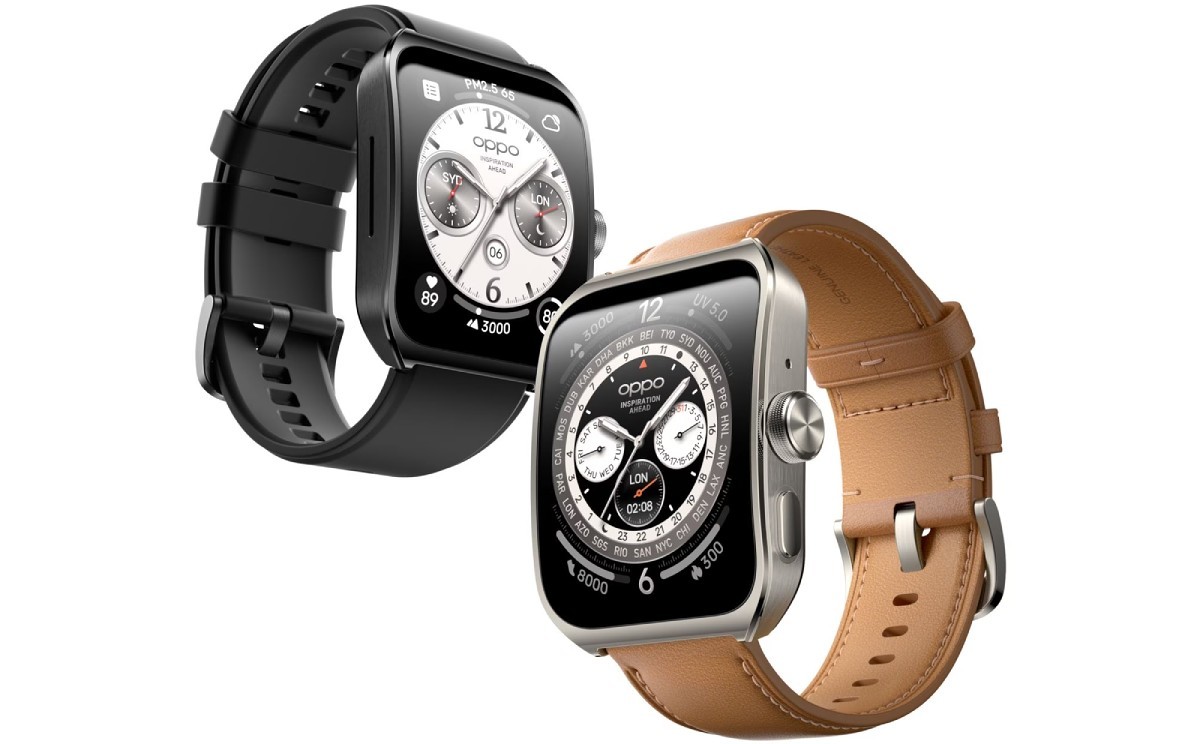 The display maintains its gently curved form, showcasing a 1.91" LTPO AMOLED screen as seen before. The resolution remains consistent at 378 x 396 pixels (326ppi).
The Watch 4 Pro is available in two distinct versions: Polar Night Black, featuring a black body complemented by a fluoro-rubber band, and Dawn Brown, which boasts a champagne-toned body accompanied by a brown leather strap.
At its core, the watch houses an advanced sensor suite capable of conducting a comprehensive 60-second examination by monitoring seven essential vital signs. This includes ECG readings, heart rate monitoring, determination of blood vessel age, sleep analysis, and stress levels. Among the array of measurements, it can evaluate factors like blood vessel flexibility, identify arterial fibrillation, detect instances of snoring, and more.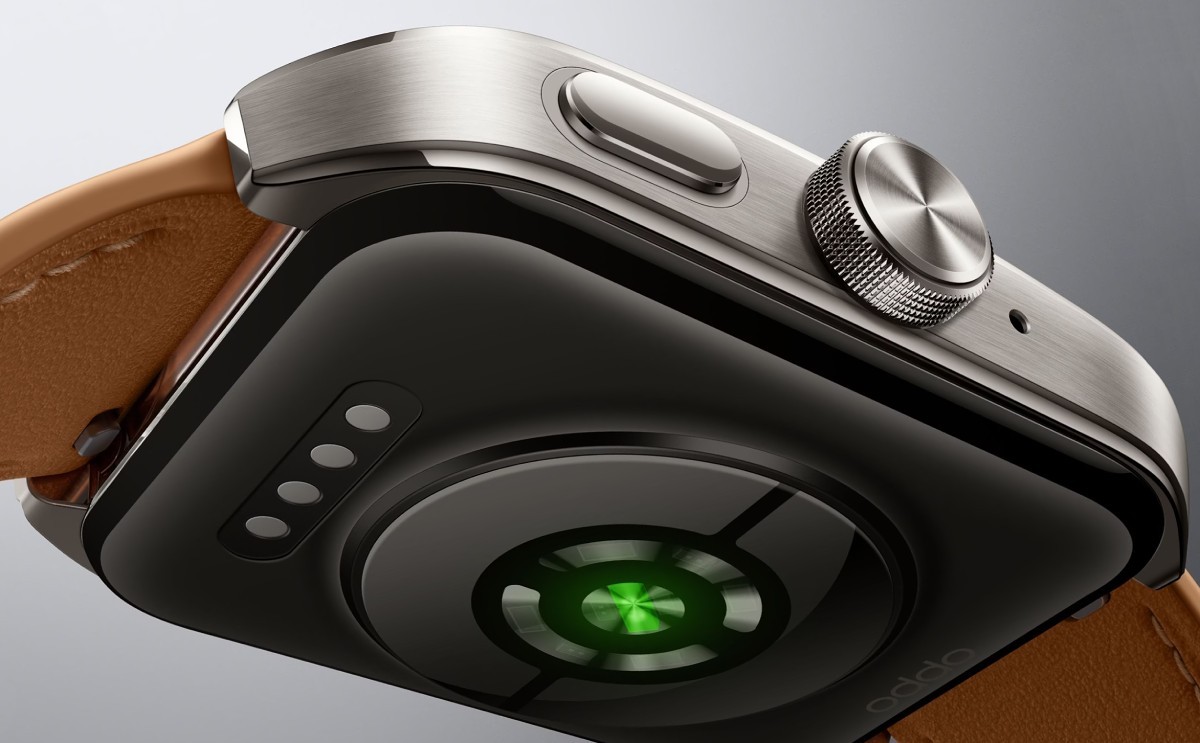 This model introduces real-time blood sugar monitoring, complete with an alert mechanism for abnormal value fluctuations. Additionally, the watch is equipped with a skin temperature sensor, known for its impressive accuracy of up to 0.1°C.
Much like its forerunner, this watch operates on the Snapdragon W5+ chipset, complemented by the BES 2700 chip to ensure efficient low-power performance. This year, Oppo has amplified the RAM to 2 GB, while maintaining the storage capacity at 32 GB.
Fueling the device is a 570 mAh battery, slightly larger than the previous iteration, which allows for up to 5 days of use, or approximately 2.5 days under heavy usage. Activating the Light mode extends this span to a couple of weeks. Notably, the inclusion of fast charging means that a mere 10-minute charge can provide a full day's usage, while a complete charge takes just over an hour.

For comprehensive exercise tracking, the watch is compatible with key positioning satellites. In addition, the watch's construction boasts a 5 ATM water resistance rating, permitting its use in aquatic environments, including the pool.
Presenting two distinct versions, the Polar Night Black variant is priced at $315 and the Dawn Brown model, which comes with dual straps, bears a slightly higher price tag of $345.
Oppo Watch SE
In contrast to the advanced features and relatively higher price point of the Pro model, the Oppo Watch SE stands as an affordable alternative, particularly suitable for individuals not requiring cutting-edge sensors or a stainless steel body.
The SE variant is constructed from a composite material and showcases a flat 1.75" AMOLED display with dimensions of 372 x 430 pixels, yielding a pixel density of 326ppi.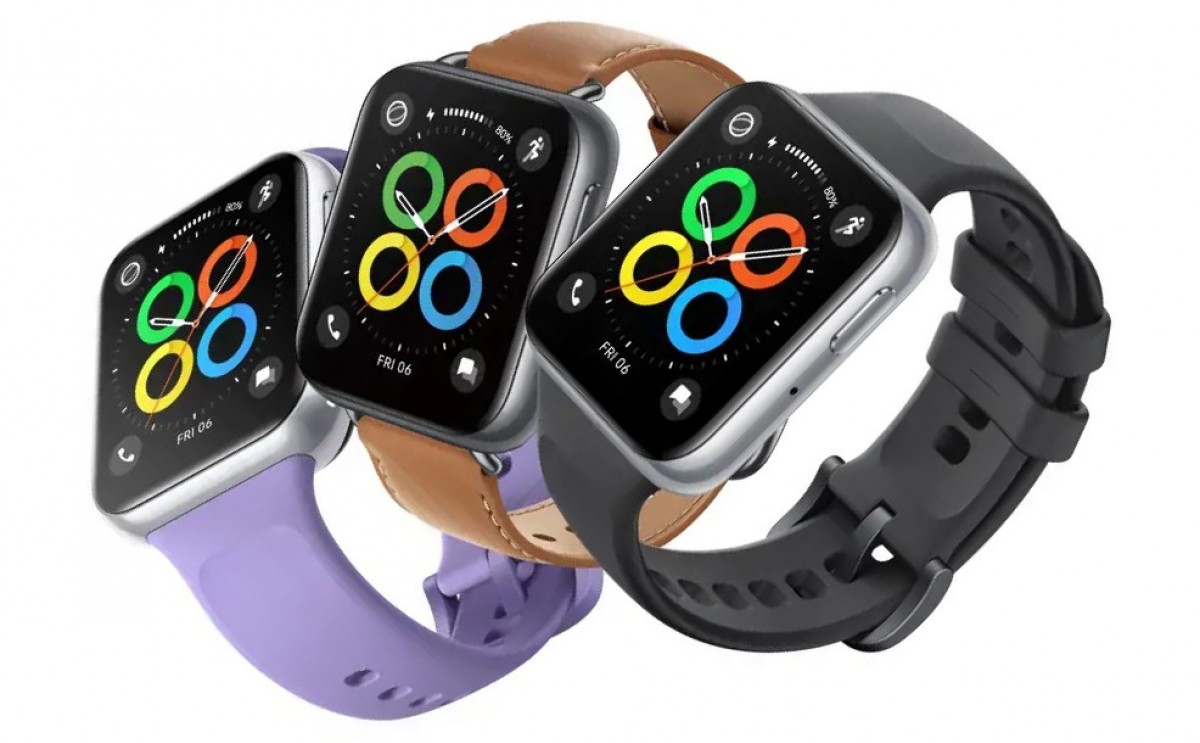 It is powered by the Snapdragon Wear 4100 chipset, an older 12nm component (as opposed to the 4nm W5+). This time around, the Wear 4100 is accompanied by 1 GB of RAM and 8 GB of storage capacity.
Remarkably lightweight at 31g, this watch boasts a reasonably capacious 400 mAh battery. This configuration is projected to provide around 3 days of usage (extending to 10 days in Light mode). Similar to its Pro counterpart, the inclusion of fast charging guarantees a full day's worth of battery life following a mere 10-minute charge, with a complete recharge requiring approximately an hour.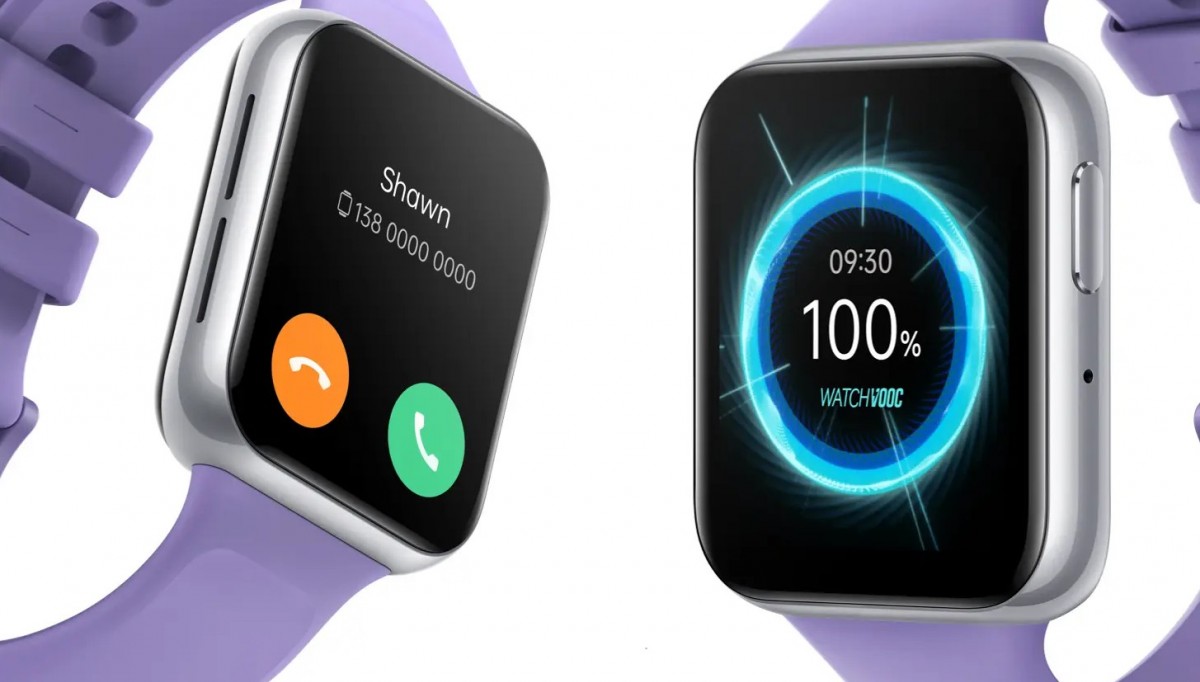 While it might lack some of the more advanced sensors, the Oppo Watch SE remains diligent in its continuous heart rate monitoring, alerting you to any irregular heart rhythms. Moreover, it extends its capabilities to evaluate your sleep quality through the observation of blood-oxygen levels. This watch is also equipped with a 5 ATM rating, allowing for confident use during swimming sessions.
The Oppo Watch SE has a base price of $140. This pricing applies to the Gray and Purple variants, both of which are accompanied by silicone straps. For those inclined towards the Dark Brown model featuring a leather band, there is a slightly higher cost at $151.