It's an era of fierce competition and all the big names in the auto industry keep coming up with innovative ideas and super cars to stamp their name above all the rest. Every automaker wants to be an industry leader, but it's never easy to be the best when everyone wants to be at the top.
Mercedes is in another league altogether with its unique ideas and top-notch designs. When you talk about a car's interior, there's nothing better than a Mercedes!
Mercedes-AMG has embarked on a journey to introduce a car unlike anything we've ever seen before – The Project One hypercar.
The hypercar will have an astounding 1000+ horsepower complemented by four electric motors. Crazy, right?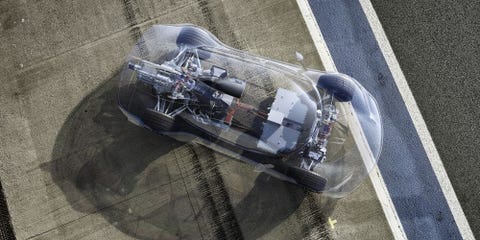 The latest design and specs were introduced by Mercedes-AMG at the Frankfurt Auto show earlier this week and everyone's losing their mind over the next big thing in the auto industry.
Project One is powered by a 1.6 L V6 engine which sounds average on paper. Here's where Mercedes' F1 expertise comes into play. The V6 engine can go as high as 11,000 RPM (F1 cars manage 15,000) which gives it the necessary oomph.
For reference, a Porsche GT3 revs at 9000 rpm, and it is one of the highest revving cars around.
The V6 in Project One manages 700 HP, the remaining 500 HP comes from the electric motors.
One of the electric motors will be installed in the internal combustion engine, another one with the turbocharger to avoid lag in power delivery, while the other two will be bolted to the front wheels, the arrangement providing an astonishing torque vectoring and a much-quicker throttle response.
The system is called EQ Power+ works at 800 volts, and there will be enough batteries to provide an all-electric driving for 24 kilometres.
The Speed
In terms of speed, the Project One hypercar will be unparalleled, reaching from 0 to 200 kmh in 6 seconds, while the fastest ever car tested can only reach 0-200 kmh in 6.4 seconds.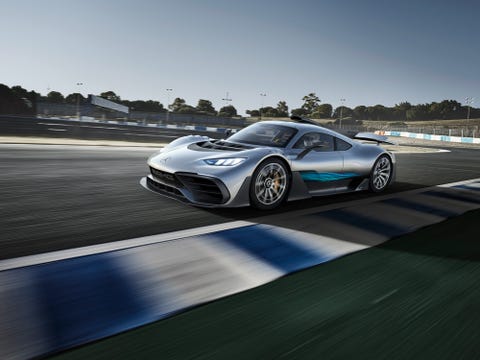 The estimated top speed is about 350 kmh, at least. Car lovers are going to get goosebumps after reading this for sure.
The concept car will be able to beat the AMG A45 by minutes at the Nürburgring Nordschleife track and that too while consuming less fuel. This alone proves how ridiculously fast Project One is, considering the fact that an A45 covers the track in just 8 minutes!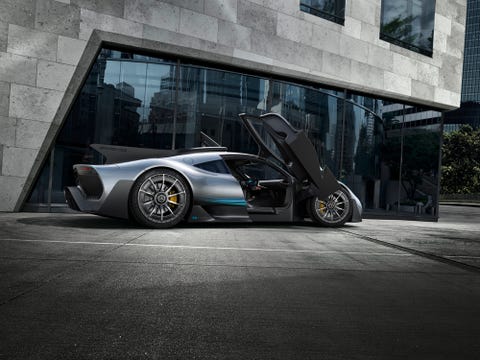 The paddles are mounted on steering wheels, and you can operate this hypercar both manually or in automatic mode.
The Design
No one does it better than Mercedes when it comes to efficient aerodynamics and a neat look. The solid build, slanting curves, and roof scoop would make anyone's jaw drop.
The best thing about Project One is that it is a car built for the streets, therefore Mercedes-AMG decided to use a 1.6 litre V6 turbo engine instead of going for a V8 or above.
The Price
This engineering marvel will be available next year at a ludicrous price of $2.8 million. It's told to be a street car but has the capabilities of a full-scale race car. Mercedes however, claims that the car will be capable of working in the normal day-to-day street conditions (not in Pakistan of course).